Finally moved in to the dorm tonight, been stucked in the traffic for 1 hour and a half which normally would only take about 30 min to my school. Plus bad bad weather also, not pouring, but a bit rain during the move-in process which was unpleasently enough... A bit rain is good for Calif though since I don't remember when was the last time there was raining this year

So let's move on to my Playstation 3 review which I've been promising supposedly to post on 09/19...

So this time is about streaming media to Playstation 3 from your DLNA enabled devices such as a computer. This is a new function added after firmware v1.80. This is a huge improvement on what the PS3 is capable of in terms of as a media hub IMO. Prior to v1.80, if you want to get your media files to play on PS3, you only have 2 (maybe 3) choices:
1. Burn a disc, then play in PS3
2. Copy files to hard drive (FAT32 only, 4GB file size limitation) or other flash media, then playback on PS3
3. Using the software, Red Kawa fileserver, to download files from your PC to PS3, but the speed is amazingly slow...
So after v1.80, you no longer have to do the above, just streaming from your computer using an DLNA enabled software, that's it. The speed of the streaming is amazingly fast on a wired connection, a recorded 1080i around 14Mbps mpeg2 file starts instantly at the time you hit your play button, and there's never a drop out. So it's really good, but people have reported slow connection on the wireless side since PS3 only has a 54Mbps card. By using this function, you also break the 4GB file size limitation on FAT32 drive, and there's NO folder/file name restrictions whatsoever. The bad side is that a PS3 is still a PS3, it only recognizes very limited files, videos have to be mpeg with mp2 (if other audio such as ac3 the mpeg has to be program stream) or mp4 AVC, no avi, mkv, ogg stuff. But you can use a DLNA enabled software called TVersity to transcode those non-compilant video formats on the fly. A very impressive software to further extends the ability of PS3. But since I don't like anything being compressed, or transcoded, the software is no big deal to me, but I'll introduce it briefly later. Another problem presently presents is the audios in HDTV gets converted to LPCM on PS3, seems like SONY likes LPCM a lot... This is not a big deal on casual viewing, but if you have some good surround mixing TV shows, you are just missing out those effects. And PS3 seems adds a lot of bass on the converted audios which results an over-exaggerated boom, very unnatural. Yet the biggest problem I found out is that PS3 can't handle certain mpeg2 stream, such as those records from CBS and the Tube (a 24 hr digital music station here). There's this guy who has the same problem, here is his blog entry about this issue, he puts out this file for diagnosing purpose. My summary ends here, I'm impressed how long I can write here... But this never happens when I write a research paper...
So let me introduce the media server function picture by picture. The following is a setup on the network. The last option media server connection is where you can enable/disable this cool function...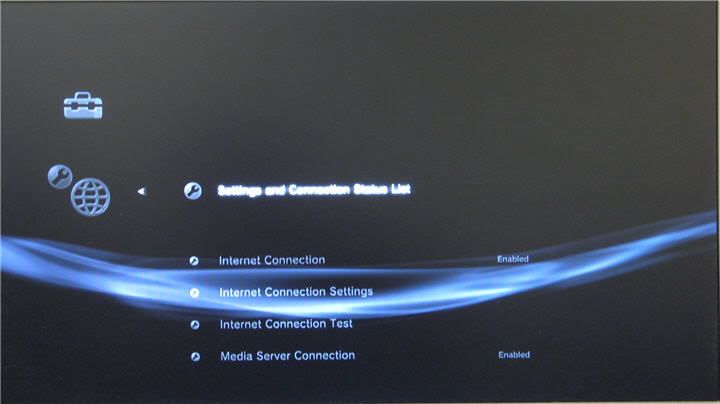 Here is my connection status list, private info is eliminated here

Media Server Connection Option
There are many DLNA enabled softwares you can use, I'm using windows media player and Tversity here. Windows media player is the easiest way to go since it's already in windows, but it doesn't support mp4 AVC. I would recommend TVsersity here for mp4 support, or even trancode on-the-fly for non-compilant avi, mkv, etc files.
Turning on Media Sharing function in windows media player, it'll recognize PS3 easily as Unknown Device, check allow then you are all set.
The interface of TVersity, ustilizing flash. TVersity is very powerful at updating the media, not only sharing to PS3, but can also share to other device such as PCs. Much more powerful than windows media player. The setup of TVersity is a bit hard at first, you can check this blog entry for detailed instruction, also check out TVersity PS3 forum.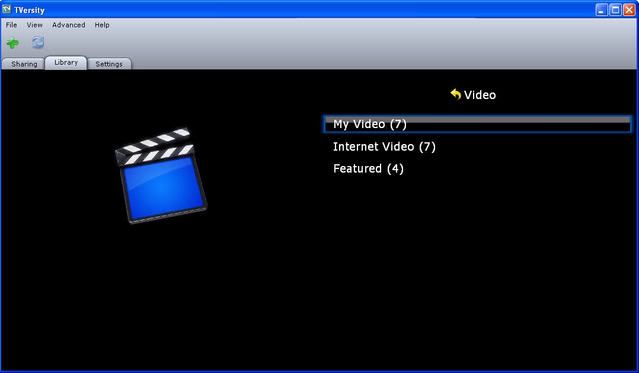 Basically, if you setup the softwares correctly, PS3 will recognizes those servers immediately, but just in case something doesn't get updated promptly, here's how you can manually search the servers...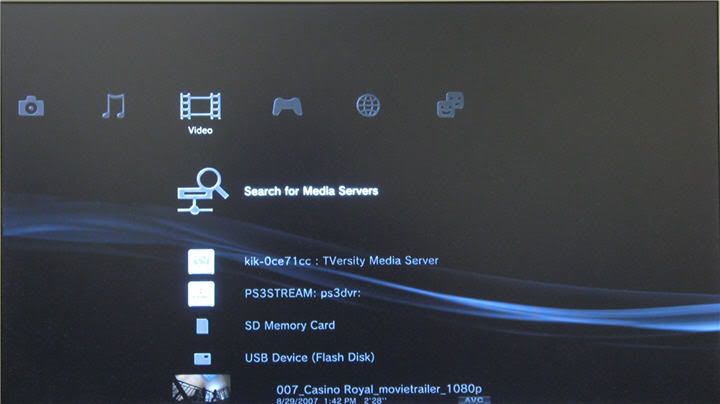 Loosen your seat belt, cuz searching takes a long long time...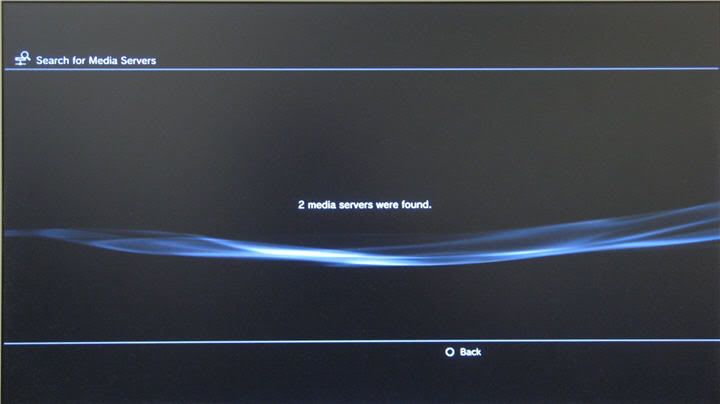 So first let's entering the TVersity server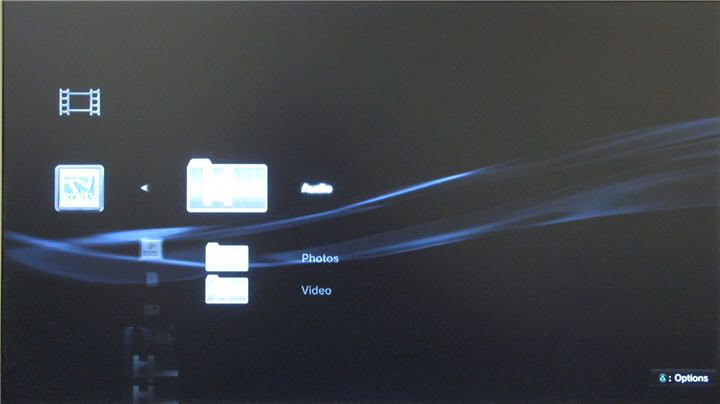 Blackhawk Down Trailer I copied from PS3 to PC, just to test the ability of supporting media on TVersity.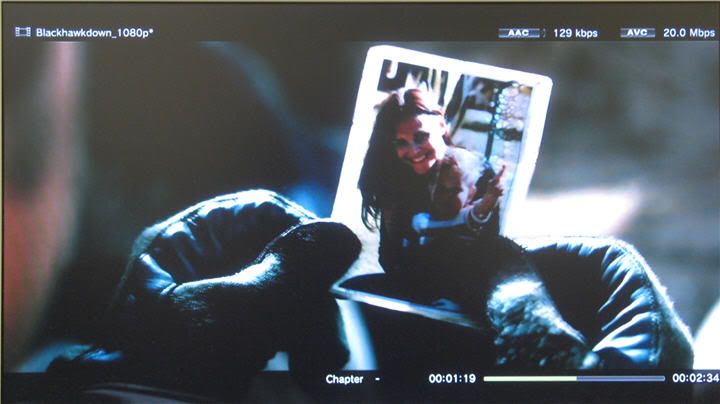 Tom and Jerry tale I recorded from Saturday morning cartoon, the original capture is 1080i, here I have encoded to x.264 using Megui. The reason I chose to transcode this one is that the original source is a complicated one, most of time are fast motion chasing scenes, so I think I made a bad choice later on after I waited 24 hours for this 20 min footage to compete encoding process... The result is NOT very good, the picture gets residues from previous scenes, very weird... Side notes, I just wish that WB and UPN the two never got merged together, that way I got some more cartoon like transformers every afternoon on WB and more si-fi on UPN.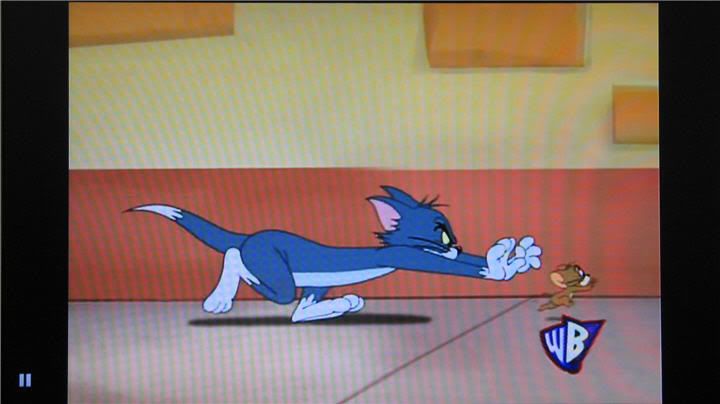 Here's some of the parameter I set in Megui... I set the bitrate @1Mbps, and audio as AAC-LC multi-channel... This is the native resoultion 1024*768 on the screen.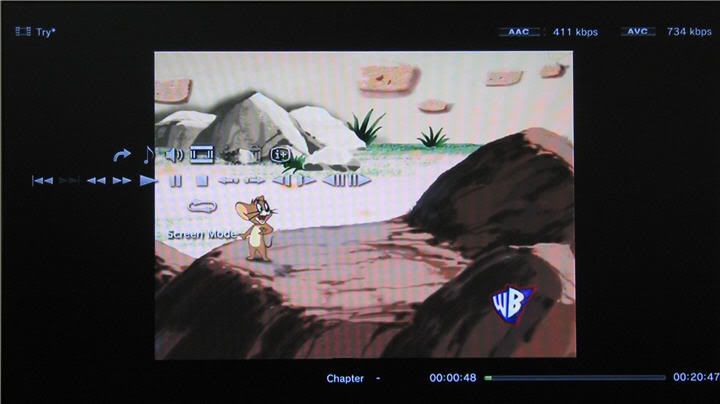 Another picture shows that the time searching function is working on the mp4 file, so except slow encoding and ghost pictures, Megui really gets the job done. I might look into it further when I got time since cartoons I don't really care too much about image quality, they are NOT HD anyways...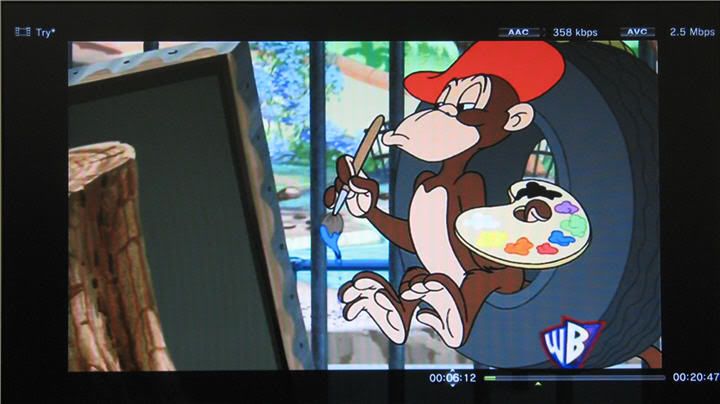 Now come to the windows media server, which has more files...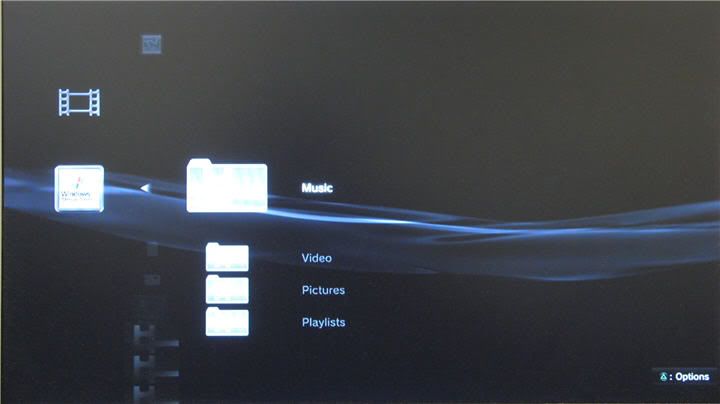 Lots of Channel 2 recordings, but ironically, PS3 can't handle any streams from this channel...
Cold case, a crime investigation type drama I recently got interested in...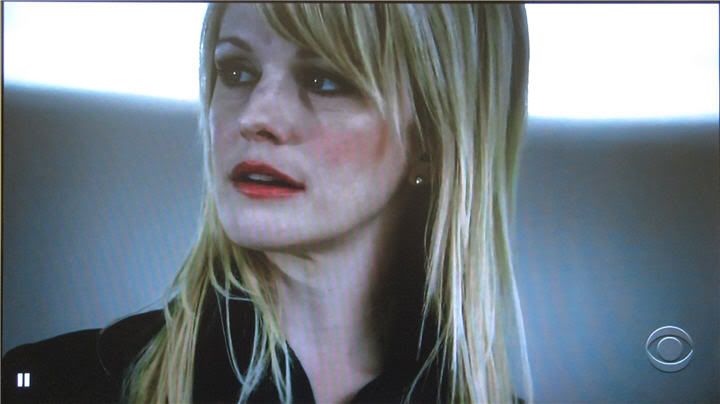 CSI Miami, love the warm vivid pictures, and the surround sound mixing, but too much noises...
Heroes, don't like the show, can never understand why it has such a hugh success... I am experiencing recording time on how to record two different shows on a consecutive time but not losing any content on both, such as here the heroes is from 9:00 to 10:00, then CSI Miami starts from 10:00-11:00.
Another Saturday morning cartoon show, the batman... Got two sets of batman series lego this year...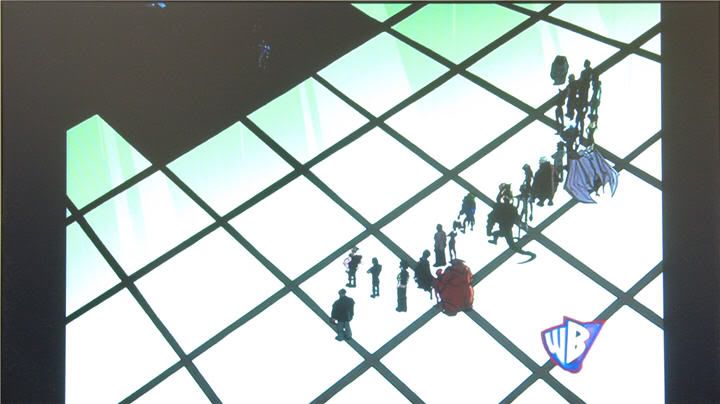 Cat in the hat, just recorded, but never watched it...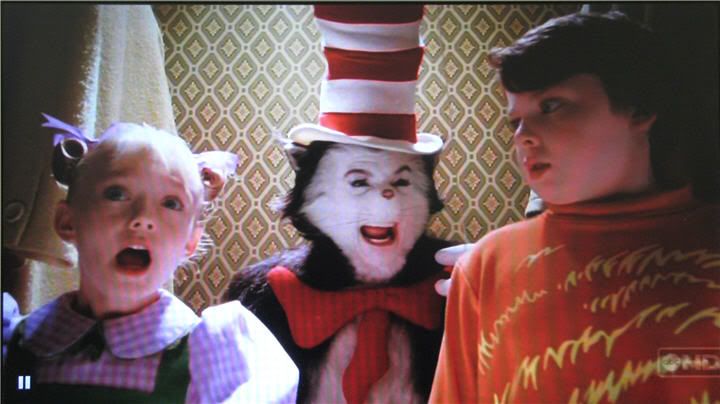 Lindsay Lohan in Confessions of a Teenage Drama Queen, mean girls is a much better piece though...
Masters of Si-fi, a mini series, only 6 episodes, but haven't got finished yet...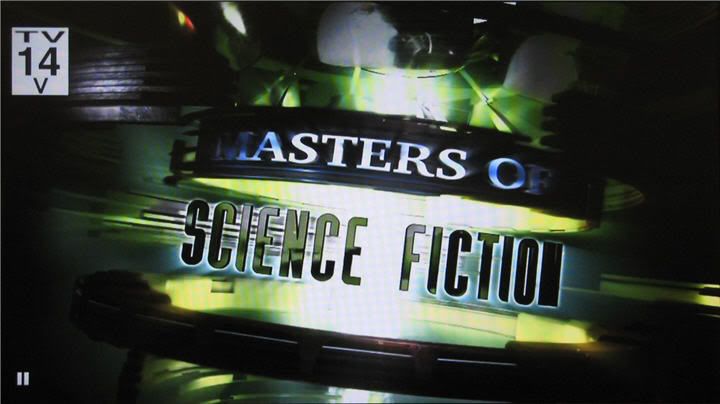 Target advertisement...
Here are the most troulesome mpeg2 files. All the shows from CBS and the Tube aren't playing correctly on the PS3. My favorite show Jericho happens to be the worst of these mpeg2...
This Spiderman3 theme song doesn't get any better...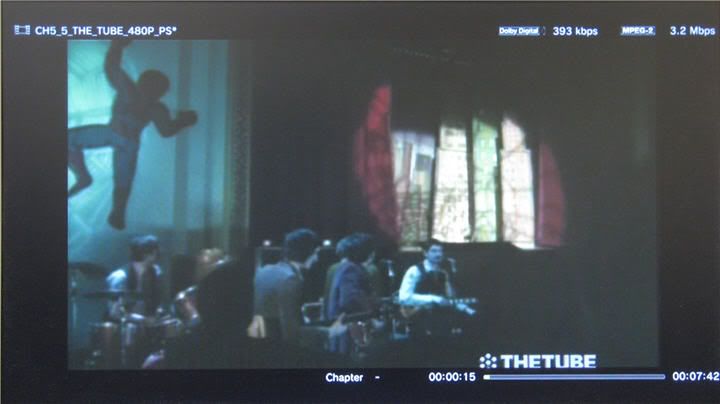 Complete Mai-K TV works fine though... I guess the goal for completing this series is where I start my downloading career...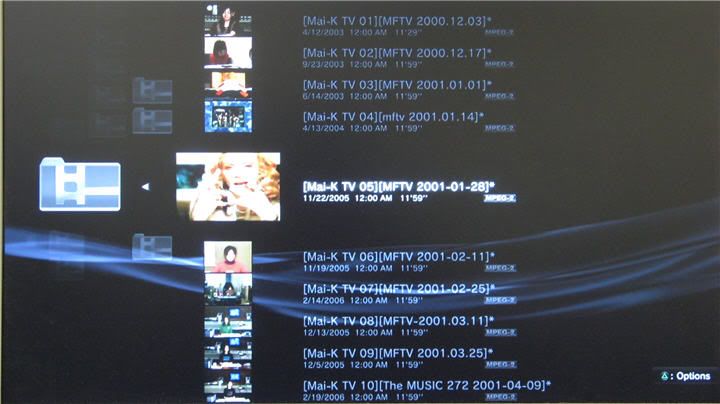 So no longer have to burn DVD-RWs to watch them...
Screen mode can be used to change the size of the window, like the original window, extend to the full screen with some horizontal stretch for 16:9 non-anamorphic material. Original 352*240 windows on 1080i screen, how small it is...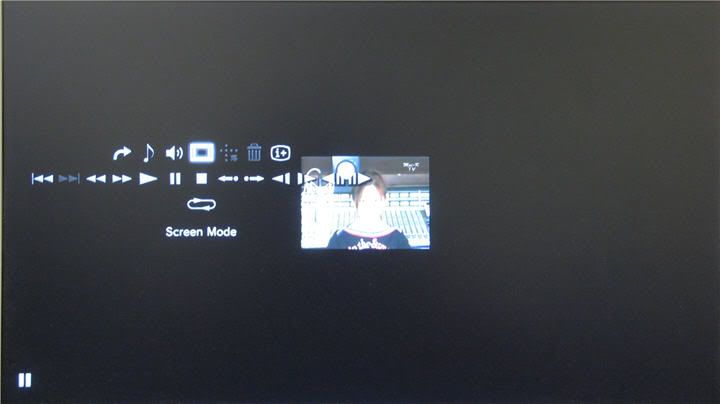 Windows media player doesn't have the ability to transcode non-compliant files, so shows a bunch Unsupported Data here, these are actually avi files I believe...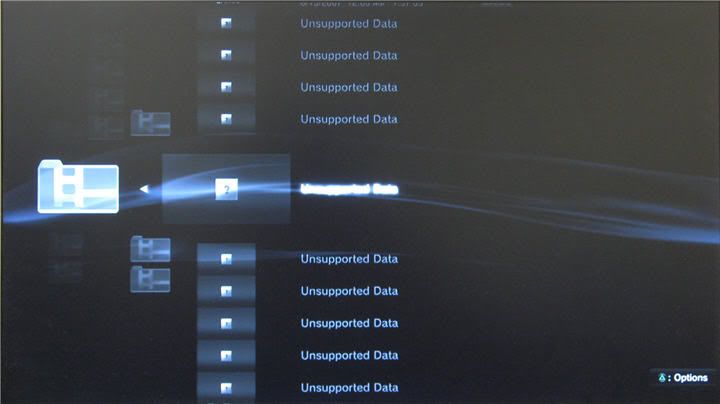 Mai performs her Japanese debut song "Love, day after tomorrow" on 56th NHK Kohaku show in 2005. Her 3rd apperance on this show. In 2006, she did her own countdown live...
This is a crippled 1024*576 version, too bad, still havn't got the 1080i version with AAC 5.1