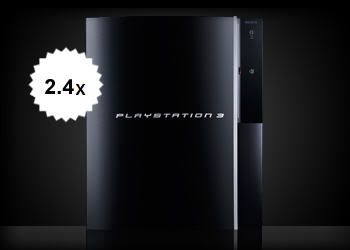 I should've updated this piece of news last month, but I've taken shity quality pictures for the last couple of batches. So I don't have good pictures, I'm hesitent post them...
This firmware 2.40 was initially released at the end of June, but was pulled off a day later due to the firmware bricked a few PS3s during the update. The problem was caused by users with too many files on their hard drives. I was glad that I didn't update that firmware, as I might be a victim of that since I have tons of files, pictures, mp3s, trailers, game demos, etc on the hard drive... After about a week later, an updated version 2.41 was released, and solved the problem. About a week ago, there's another firmware 2.42 released.
Most of the features in this update are useless in terms of media playing back. However, there are three minor updates in terms of media playing back.
1. Frame and Block Noise Reduction, upconversion in all videos:
Also, there's upconversion feature for BDAV discs now. It is another useless feature as we don't have Blu-ray recorders on the market right now...
2. Mini-size control panel for music:
This is another useless feature...
3. DTS-ES and DTS 96/24 for DVD-Video and DTS-ES Matrix for Blu-ray Discs are now supported.
This is a big update for people using HDMI port and have PS3 doing internal decoding, but not a huge deal for people with optical connection...
One neat feature in this update is including a "Turn Off System" button: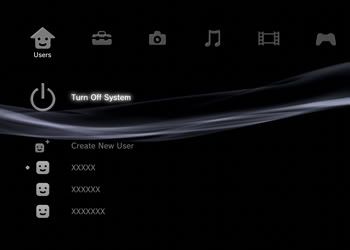 Now I can finally use my SONY RM-AX1400 remote control paired with Nyko PS3 dongle to turn off the system without using the PS3 BT remote.
Other updates are game related which includes accessing XMB during game and trophies.
XMB accessing during game is a long waited update by many gamers, and now it works, but somewhat slow. The operation is not sluggish, but does take some time refreshing the icons. I hope there will be more improvement, better allocating resources for later updates.