Here's the promised big month of BD purchase. Well, the two items in part one here are actually unexpected, somewhat impulse buy.
I've always wanted the Planet of the Apes 40th anniversary set considering the first movie is so awesome, plus there's a 200 page book in there. So since I can get this for $41 shipped, which is the lowest price I've ever seen on this set, I pulled the trigger.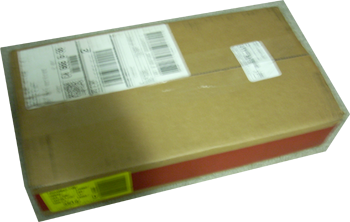 The package came in relatively fast. It's a 4lb beast! I've never received any DVD/BD sets so heavy. I was pretty surprised. I've seen some pictures online, but never thought this thing would weigh so heavy.
It's a huge 5 disc digipak with a premium 200 page book. The thing is big and heavy, I put a standard UK Blu-ray just for comparison.
Upon opening, there's a timeline summarizing the events happened in these 5 movies. These are big spoiler if you've never seen the movies, which for me I've never seen anything beyond the third movie. But since I'm a big sucker for bonus features, especially physical features such as the book, I know I HAVE to get this version instead of the individual release.
The book is printed on glossy photo-ish paper. The quality is very good, I'm extremely satisfied with it! The digipak, however is pretty bad. The central hub is made of some kind of plastic rubber, with the discs put on them extremely hard to take out. You have to twist the discs in order to take them out. But the problem is that the rubbers will come off when you twist… I think I might just go get some multi-disc Blu-ray case and make a custom cover for the peace of mind. I've never liked digipak anyway since they deform pretty fast and not suitable for long term storage.


Next up is James Bond Goldfinger Blu-ray Steelbook Amazon exclusive.
Another impulse buy. This marks as the third steelbook, and the second 007 steelbook in my collection (first being thunderball which was very awesome!)
Unfortunately he first one they sent had a pretty big dent. They are sending it in a cushioned envelope which is an extremely poor choice! So I have to request an exchange, the second one came in the next day since I have Amazon prime. But it's still coming in with a cushioned envelope. And guess what, still dented, but it is far smaller, and it's from the inside which suggests maybe a problem when manufactured rather than the first one with externally squeezed into the case. I also got a $4 Amazon VOD credit out of this purchase.
Last one is actually ordered in this month, but since I'm doing a batch, here it is:
Tokusatsu Kaiju movie… I've seen some Godzilla (Gojira) movies, but Gamera is new to me, since it's only $5.49 for two movies, I took my chance to get it. It turns out I enjoyed these two movies very much, pretty decent video (~11Mbps) and audio (lossy DTS-HR with 1509K core) quality since these are from Kadokawa's new HD transfer despite they are crammed into a BD25 disc (The Japanese releases use full BD50 space for each movie, with LPCM 5.1 audio and special features, but for less than $6, what can you ask for more)... Although the acting and the monster costume are rather lame, I think Ultraman Heisei series (Tiga, Dyna, Gaia) made around the same time are much better in these regards. But the pacing of the movies are pretty fast, which made them very enjoyable to watch.