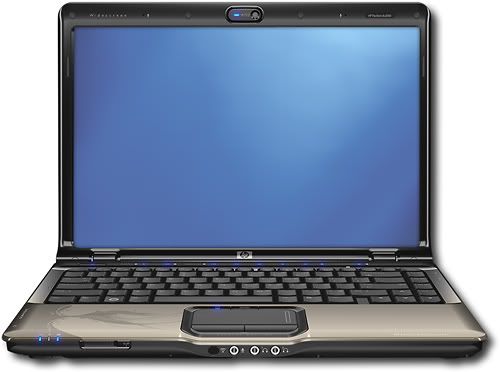 (The pictures above are verve special edition from bestbuy, but except those prints, the design is the same, you get the idea)
So this is the second HP notebook I have ordered just within 3 weeks from last one, the notebooks are for others since I already have enough computers running around in our little apartment (mom always complains why I'm not turning off the desktop...)... The first one is a DV6000t, a 15.4 in one, this one is a DV2000t, 14.1 in. Both of them have almost the same spec: differences are the 14.1 in comes with windows vista home premium and has a webcam, while the 15.4 in is home basic no webcam... Admittedly got good deal on both of them, but the first one seems much better deal, about $100 less, and personally I like big stuff, the second one isn't as great as the first one considering after one and a half week after I placed the order the new dv2500t comes out with a 8400gs graphics card and core 2 duo CPU for a $60 more than what I have here, a much hotter deal IMO. If it's for me, I would definitely call HP to cancel the order and get the dv2500t, but since it's for other people and the person really needs it before school starts which will be in 2 weeks. I gave up fighting this time, just saved myself some time and energy...
This review comes kind of late, if I had time to play with the dv6000t last time, I should've probably written a review on that one.
So It's about the little brother... Here's the spec:
- HP Pavilion dv2000t CTO NB
- FREE Upgrade from Genuine Windows Vista Home Basic to Genuine Windows Vista Home Premium (32-bit)!
- Intel(R) Core(TM) Duo processor T2450 (2.0 GHz, 2MB L2 Cache, 533MHz FSB)
- 14.1" WXGA High-Definition HP BrightView Widescreen Display (1280 x 800)
- FREE Upgrade from 512MB DDR2 System Memory (1 Dimm) to 1GB DDR2 System Memory (2 Dimm)
- 128MB NVIDIA(R) GeForce(R) Go 7200
- HP Imprint Finish + Webcam + Microphone
- Intel(R) PRO/Wireless 3945ABG Network Connection
- FREE Upgrade to 160GB 5400RPM from 80GB 5400RPM!!
- SuperMulti 8X DVD+/-R/RW with Double Layer Support
- No TV Tuner w/remote control
- 6 Cell Lithium Ion Battery
- Microsoft(R) Works 8.0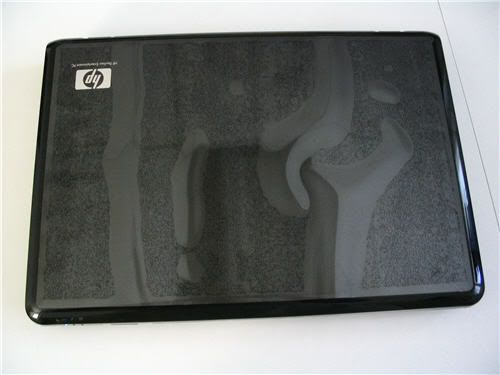 The design is pretty attractive, and looks slim on picture. The real item isn't that slim though (as thick and heavy as my Dell latitude D610, maybe due to some visual perspective on the slanted design), but still awesome looking, especially when it's running tons of lights lit on.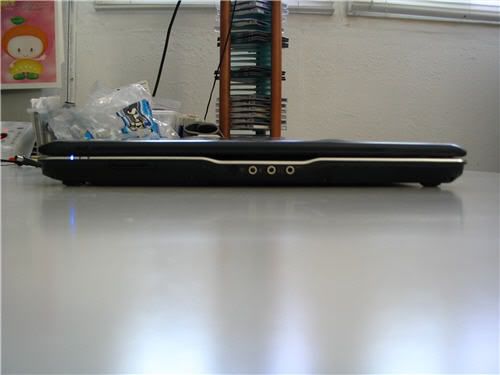 The front:
Features three audio input/output, from left to right are microphone, headphone, second headphone can also be used as digital optical output (mini adapter is required). On the left of the microphone input is the remote control reception window (I think all the DV models come with a remote control which you can put in the card slot, the receptions on the remote on good and the remote is really good not like some junky accesories you'll never use) . On the very left are three indicators for power, battery, hard drive. To the right is a dedicated switch for wireless network.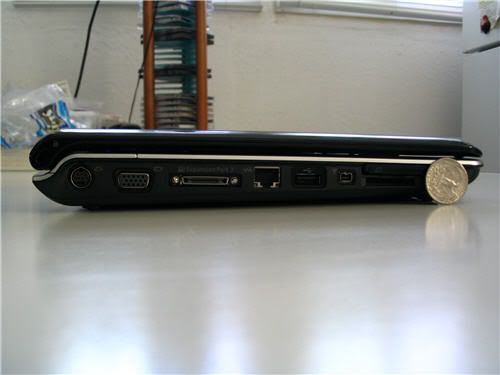 The left side are S-video, VGA, HP expansion port, ethernet, USB, IEEE 1394, Card slot on top and card reader (SD/MS/MS Pro/MMC/xD) on bottom. So the remote control goes into the card slot, a very good design. Again, I have taken a picture against a US quarter coin, it's not as thin as it looks like...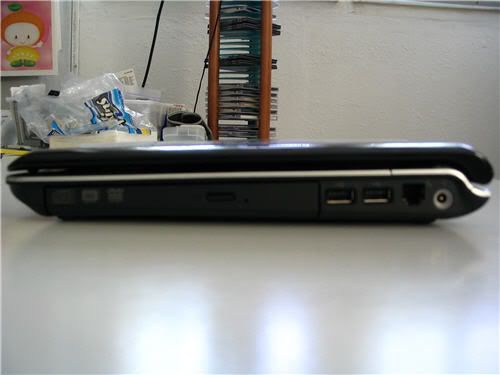 The right side are DVD burner, two USBs, phone input, and power port.
Flip over the machine, there are four compartments on the machine, one battery, one hard drive, one memory and one mini PCI (PCI-e maybe...). The placement on the hard drive is bad IMHO, it's on the left wrist panel, which heats generate after one hour or two to the point gets too hot to put your wrist on the panel. A better design would be to put the hard drive underneath the keyboard which my Toshiba does; my Dell does put the hard drive at the same spot but the panel doesn't get hot at all.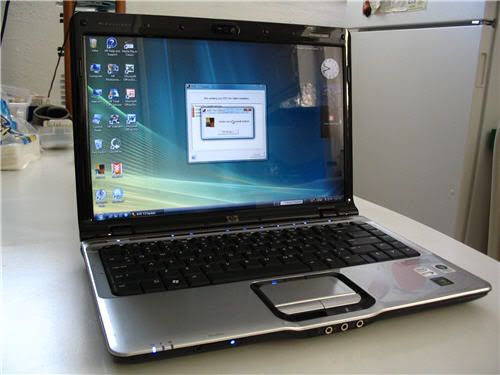 The screen is a glossy one, which is too reflective IMO. Turning off your notebook, you'll get a fully functional mirror

. On top the screen there is a 1.3MP webcam (I sought of take on redemption this time by choosing a webcam although the "Client" doesn't really need it, regret didn't do it on the 15.4in one) and a built-in microphone, the webcam is really good, the image quality is better than my microsoft vx-1000 webcam which costs as much as this one for retail price (of course I got a much cheaper price on the vx-1000

). There is a dedicated switch for the mouse pointer, the pointer is OK but hard to move it if your fingertip is sticky, there's too much friction on the touchpad (After getting used to the tracking stick on my Dell, I just cannot go back

). The keyboard is good but does feel somewhat different than Dell and Toshiba. On top of the keyboard, there are the power button and cool multimedia quick access buttons all with blue led, very cool when running but could get distracting in dark room for others... Yet top to the power button and quick access keys, there comes the great Altec Lansing speakers. The sound goes to the screen then bounces back to user's ears. The placement of the speakers is a disaster if you want to close the lid and listening to music, other than that, it's perfect, sound quality is as good as those PC speakers for $20-$40, only wish is that they could've include a subwoofer on the notebook, that would make my day. There's no mechanical lock on the machine, it uses a magnesium locing mechanism which desn'it seem to lock very tight between the lid and the base.
I took about half a day uninstalling the unnecessary programs and made a backup discs, from what I can tell, the speed is good, the programs maybe slow for the first time running, but after second time re-launching it's almost instant to start up. The 7200Go video card should be able to handle most of the popular 2005 era games. I have only tested one 1080P 12Mbps x.264 encoded clip, it plays fine with sync-ed audio. Software side there's a weird problem I haven't figured out, the machine won't go to sleep when close the lid, I have to manually push the power button to let it sleep before close up the lid.
I haven't tested the battery life yet, but should go about two and a half hour and more under normal condition.
Last, a picture with my Dell.