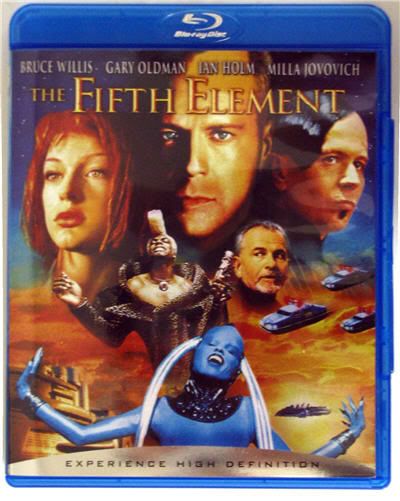 Now move on to part II, get hands on the blu-ray experience. First is the HD-DVD offers 5 free discs, then this summer SONY allies with buena vista to have a 5 free Blu-ray discs offer. Needless to say, there are not really interesting movies among the selections... Since the offer is mail-in one, still days ahead to wait buena vista's rebate processing center to approve and mail out the discs, so I think it maybe a good idea to buy an inexpensive (my standard for inexpensive is anything below $15 for BD...) yet reference-like blu-ray disc to get started. Therefore I chose this one - the Fifth Element. It's a new 07-17-2007 release which uses AVC encoding and features a Dolby TrueHD soundtrack. It is on tier-1 list from AVSforum. My review is much more picture driven and focus on exploring the functionality of blu-ray paticularly PS3 as a blu-ray player rather than PQ and AQ... If you ever want to know those thing, dvdtalk has all the professional reviews, HERE is their review for this particular b) disc.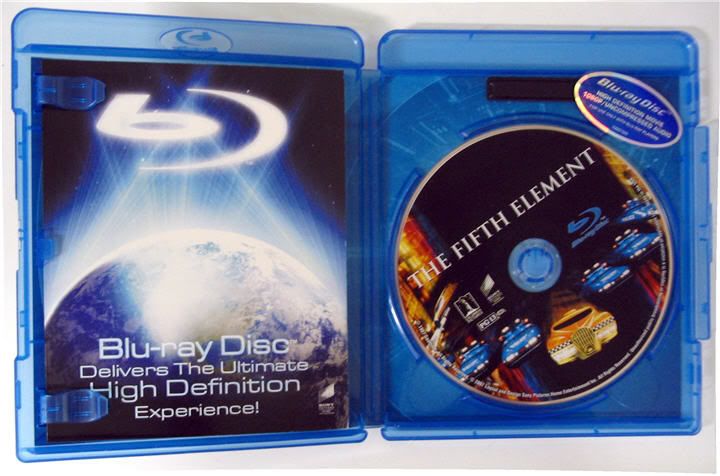 This is a one disc package, comes with the disc with an art cover (some members on the AVSforum are shocked when they see that there is a dedicated/unique cover from the movie on the disc rather than all standard blu-ray style... The latter in China would be called 和谐/河蟹, meaning harmony) and a broche introducing the Blu-ray technology and some titles. All the blu-ray disc comes with an easter egg (彩蛋) for calibration purpose, to enter it you need to punch in code 7669 in the title menu.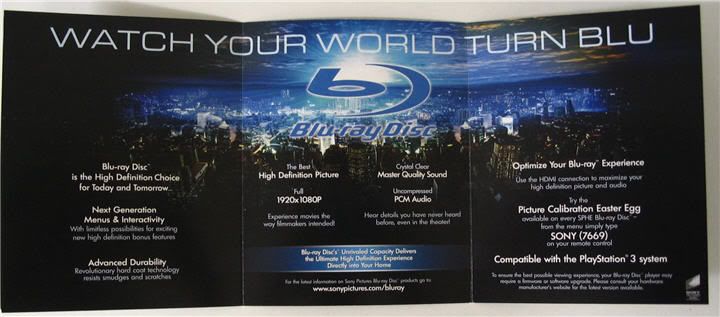 Forgot to take the back side of the package, here is a partial image from dvdtalk. The remastered one comes with a Dolby TrueHD soundtrack which the old one does NOT have...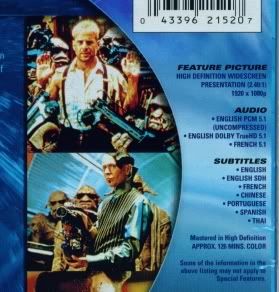 Here are I believe all the calibration test pattern from this disc, again enter 7669 in the title menu...
1. Color bars for RGB calibration, notice the cut offs(white on left and blue on right) on my screen is huge, which is a clear indication that it's only showing the native resolution 1440*900, the rest of the pixels (1920*1080-1440*900=480 on sides, 180 on top and bottom) are out of bound...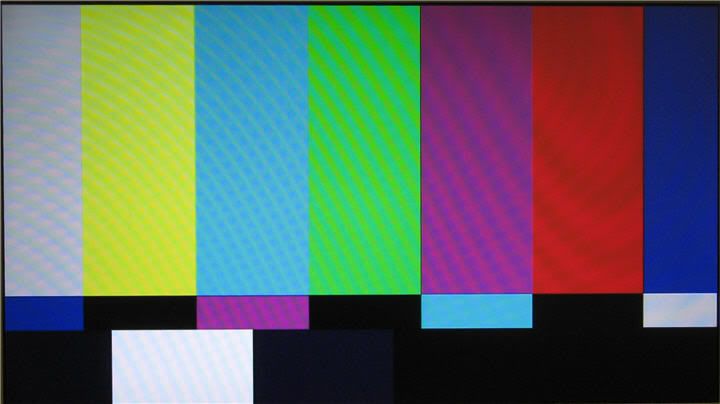 2. The geometry, position test pattern... I have to confess that my 19in monitor is 16:10 and CANNOT be pixel matched to a 16:9 ratio. All the pictures I took here are being corrected by image editing software...
3. Contrast ratio pattern...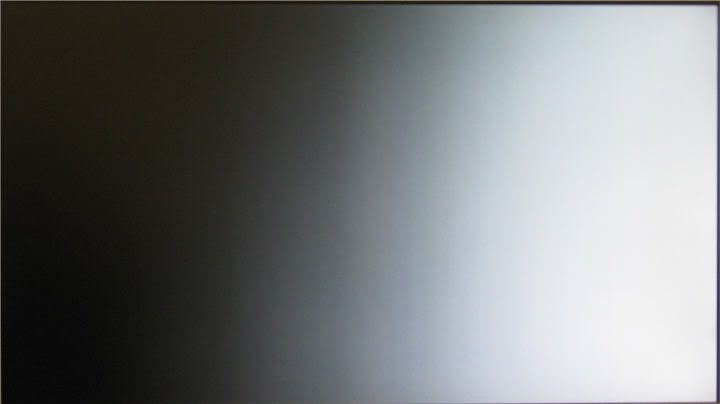 4. Convergence test pattern...
I think there's a time limit between each pattern that you can calibrate on, didn't look into this too much since I just have never got into the calibration business...
This movie is BDMV title as indicated by PS3 here. Apparently there are two authoring modes offered in blu-ray disc, BDMV (menus+movies, no advanced features) and BD-J (the full capability blu-ray technology offers, there are very few titles currently, one example would be Pirates of the Caribbean) (also a 3rd mode called BDAV which is movie only, for detailed home blu-ray disc burning experience, check THIS out.) Note on the right side there are only three options here since it's a copyrighted/xx-ROM dics, if you manage to get a DVD-R or BD-R, there will be a fourth item "information", only good to show how many titles there are in the disc though... But it's a vital indication for non copyrighted/non-ROM discs, which if you are using a component cablle for 1080i as I do and if you ever want to get the upconversion on standard def DVD, this fourth information is very important since component cable only carrys analog signal, for copyrighted issues, copyrighted/ROMs will only show at its native resolution (In PS3, if output thru component @1080i AND wants to see upconversion on standard def, you are pretty much limited to DVD-R, since DVD+R/DVD+R DL when you burn them for compatibility purpose the booktype bitsets o ROM) I will try to address this issue with pictures in later media hub parts... Long word for short, HDMI for SD DVD upconversion is a must on Playstation 3, go get a big screen HDCP enabled TV if you have budget...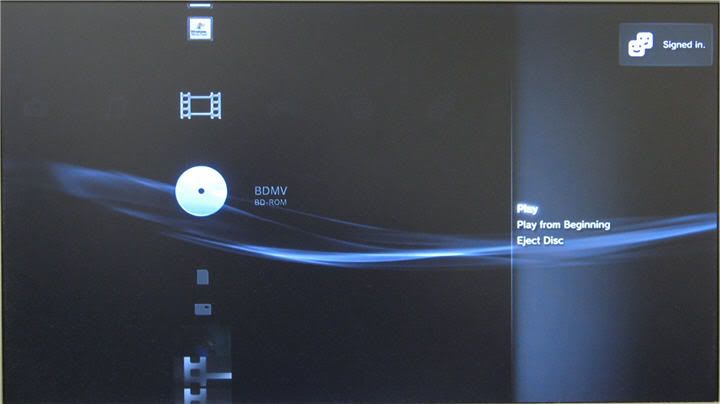 So next is the title menu. Playstation 3 starts out blu-ray disc really fast, I'm very satisfied here.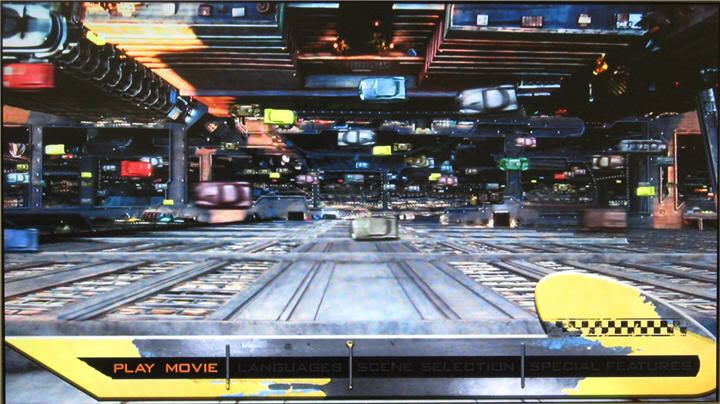 Using SIXAXIS or BT remote, pressing the TRIANGLE(option) key can call up the icons for all the blu-ray navigation, here is the icons.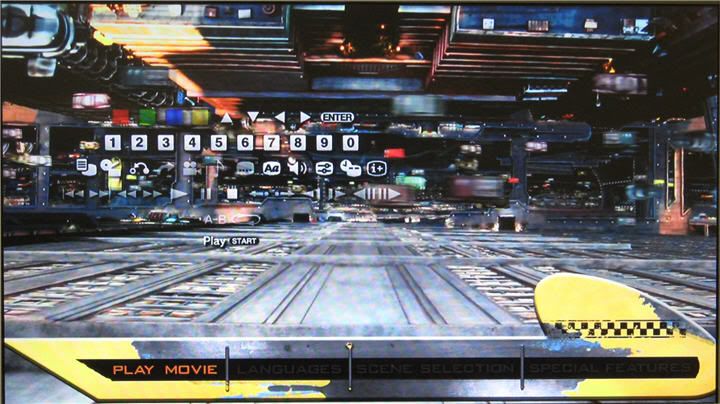 Scene selection page, nothing fancy here...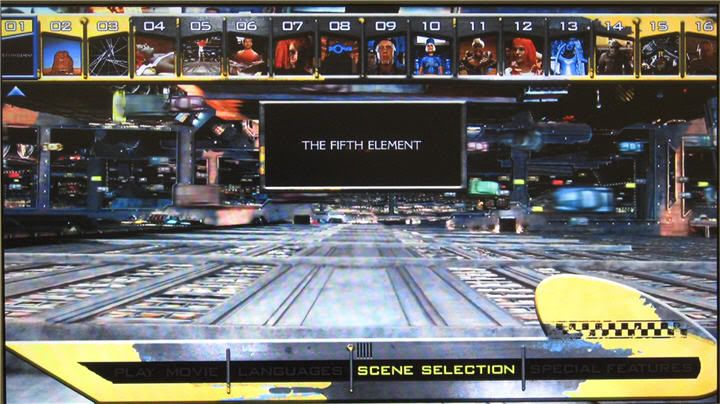 Totally disappointed features, the fact track is ported from the DVD version (Last year I tried to do a fact track on one of my own DVD, which takes a very long time to do, but I very much enjoyed it, and the outcome is pretty good

). Besides the movie, there are only two previews in the disc...
Forgot to take pictures on the subtitle and language page... Good news is that all the blu-ray discs seems come with Chinese subtitle, which is great news for my dad!
So here starts the movie, using the display key on the BT remote (select on SIXAXIS), you can call up the information. The top left shows the title number, the top right has the AUDIO codec info and resolution/bitrate (here my sound output is only optical, no enough bandwidth to send out as multi-channel LPCM, therefore I chose to send as Dolby core only via bitstream which is at 640 kbps, still better than regualr Dolby digital 5.1 tracks on regular DVDs...), and VIDEO codec info and a bitrate detector which updates every second(on this particular second, it shows 29.8 Mbps, the peak I've seen is about 37 Mbps). The bottom is the timeline....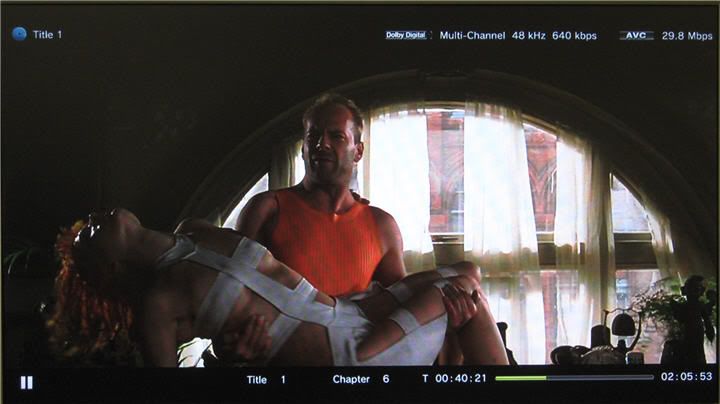 So during the movie, if you use SIXAXIS, you'll have to call up the icons for operation. This is how disturbance goes... Advertisement: for better movie viewing experiences, go get a BT remote control

...(BTW, this picture is an earlier scene than the above picture...)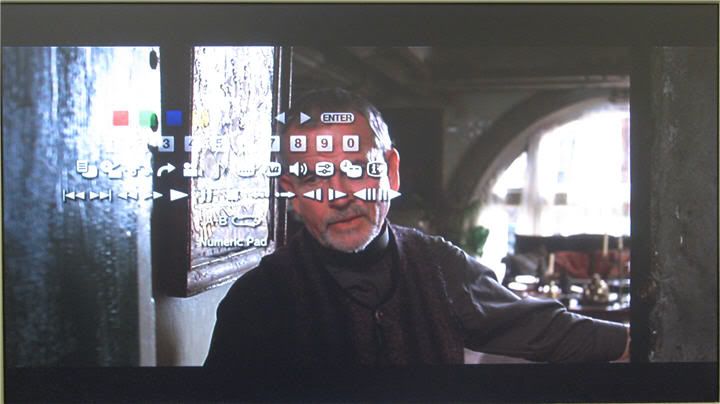 Here is some next-gen stuff, the long waited POP-UP menu, about the same as the title menu, just one extra quit(x) on the left bottom, and the above scene selection lacks a preview of each chapter...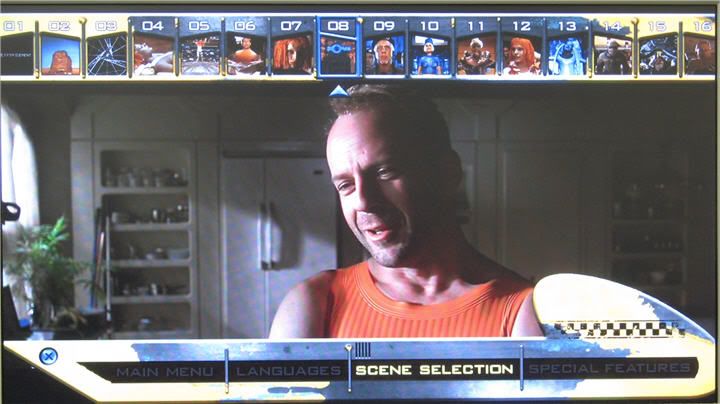 I didn't forget to take a picture on language page here, rumors that uncompressed LPCM 5.1 soundtracks will be replaced by Dolby TrueHD lossless tracks soon...
Here is the only feature for the movie, the fact track (my favorite fact track is the one on spiderman 1, very very comic looking, blends with the movie very well; the one on spiderman 2 is pretty dismal though)...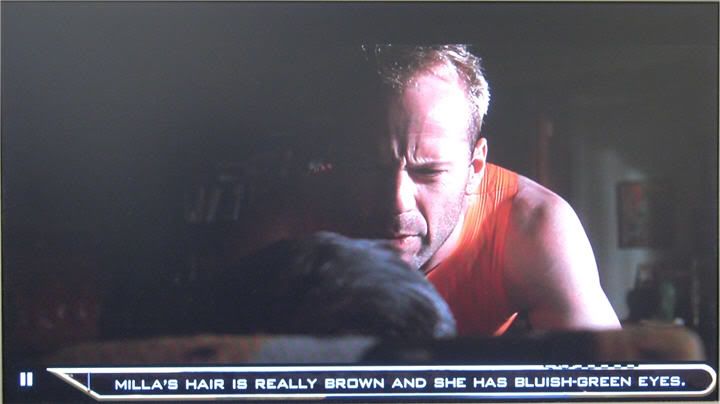 So that's all the pictures I've taken for Playstaion 3's blu-ray disc playback functions (just realize that all the pictures are taken from one scene, how lazy I am...). As far as the picture quality is concerned, I CANNOT comment too much on it since my monitor is only 19in... It does look better than OTA(over the air) HD programs I've seen starting from August last year. The picture's colors are vibrant, not too much noises (have to stand up close to see them, don't know how it looks if blowed up to a 40in or larger...) The irony is that tonight after watch this movie again, I finally opened up the Hulk special edition DVD, poped in my beloved harman kardon DVD, the picture quality is also very amazing... Details are NOT on par with this blu-ray disc, but overall could be on par or even better than those OTA HD programs... (but strangely, the Hulk only gets 3.5 star out of 5 from DVDtalk's professional review, don't know why, maybe my eyes are NOT good trained to judge the image quality...) The sound quality, as my father has claimed that the surround effects are better than the ones on DVDs, he loves it. The bass, I only turned half way up on my 100w subwoofer, it's as good as some newer dolby digital tracks (the one on casino royale is really amazing at the ending climate which the buildings crash down, as my mom shouts out:"Too loud, the house is crashing down (房子要坍忒叻!)" as I pointed to the picture and replied:"Sure, the building is crashing down...(是的呀,房子是坍忒叻。。。)") and DTS tracks on DVDs... And as on movie ifself, I don't like it very much, it certainly is entertaining in some way, but I think rewatchablity is pretty low, it doesn't go deep with those SI-FI elements. My favorite Luc Besson movie is Léon (The Professional) as I first saw it when I was 13, about the same age as Mathilda (Natalie Portman). Last notes, the lacking of features is also a disadvantage on current blu-ray discs compared to the HD-DVDs, hope after the finalization of BD spec, more BD 1.1, 2.0 players coming out, there will be more discs featuring BD-J on the market, definitely hoping for PIP viewing...
So after all, I would do a hasty conclusion that PS3 as a blu-ray disc player is pretty good. Just can't wait for those 5 discs to come in and check out further.