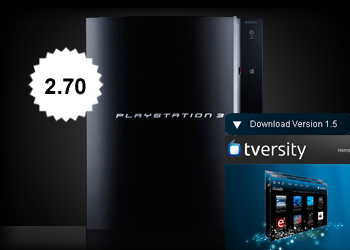 Long time no update here. I've been busy playing that Valkyria Chronicles game and modifying a couple DVDs that I've always wanted to do. So now that portion of tasks have been finished, I'm back on track with my blog.
PS3 had a seemingly uninteresting update last month, at least all the updates are none video/audio improvements related. However, this update is pretty big to anyone who wish to play some Asian (mainly Japan and Korea) HDTV files. The update now enables to play 1920*1080i mpeg2 with 5.1 aac audio. Previously, PS3 will report unsupported format with this particular combination (no problem with 1920*1080i mpeg2 with 2.0 aac or 1440*1080i mpeg2 with 5.1 aac). This of course applies only to US firmware, I think the PS3 Asian firmware has long supported this format from the very start.
Next is the new version of tversity. With the latest version, I suddenly found out that I'm able to play menus under Blu-ray structure via DNLA streaming. Previously PS3 sees these as 10:00 clip, and will report unsupported format. Now PS3 still displays the same, but they can be played. And of course the menus are shown without any button highlights, and they are not functional.