Time to update on what's bought for this Black Friday. Not much either for this year. It's actually the first year that we didn't wake up at 4AM and go into the lines. I got up at 9AM that day and went out to buy a couple stuff, which most of the items are still in stock. Granted they aren't THE popular stuff like TV, notebook, etc…
So here are what I got: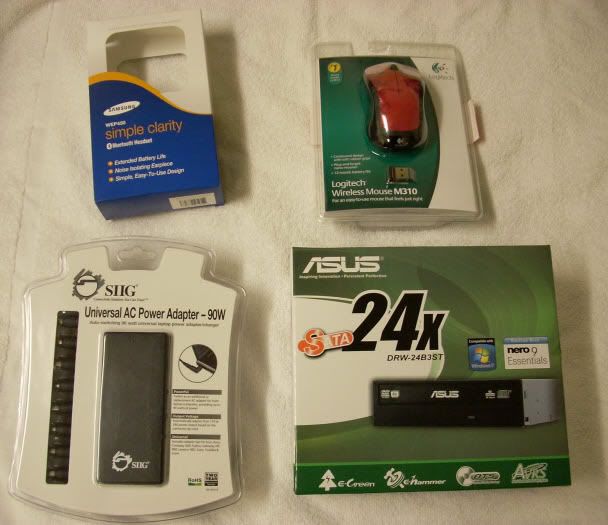 A Samsung BT headset, my staples rewards is about to expire, so I got this… I actually made two staples online purchases with a seagate 1TB expansion drive, and a camera bundle. The camera gets cancelled though… Next is the Logitech mouse from office depot. I'm pretty impressed with the new Logitch lines with these mini receivers. They got great range unlike the older ones which totally sucked and required in line of sight. Then it's the SIIG AC adapter for notebook. The Toshiba notebook we got last year had a malfunctioned adapter, so we exchanged the adapter within warranty with Toshiba acclaim without problem (one incident is Toshiba charged my credit card for original price of $134 even though I returned the broken one within 30 days, but a call solved the problem). And this SIIG AC adapter is only $10 after rebate… It seeams I got lots of SIIG product lately from sound card, notebook cooler, to keyboard… Last one out of this photo is the ASUS DVD writer. It is the first SATA DVD writer I got. My old SONY ATA one is dying, so this is a good replacement, hopefully it can last long enough before I got my first Blu-ray writer…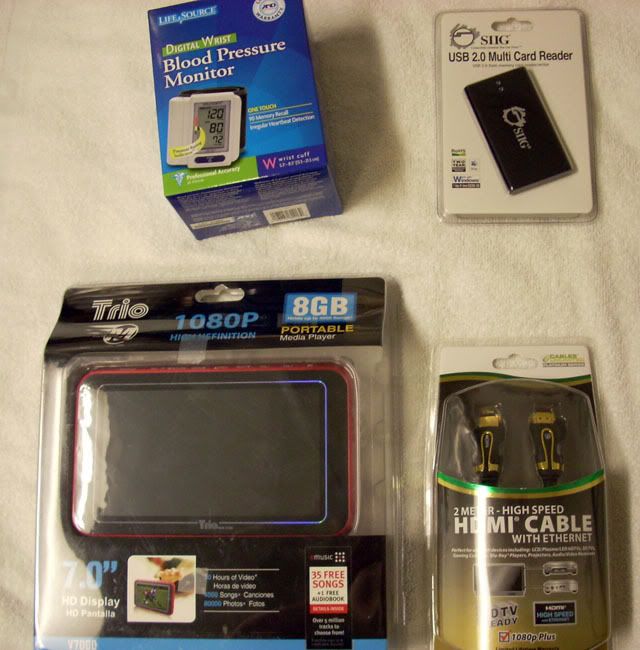 These are got from the next day, Saturday, which turns out have a better deal than Friday (more attractive). There's also the Fujitsu i3 I reviewed earlier on sale for $400 which is a great deal, but I opt out since I want to assemble an i7 desktop in the near future (just wait for the memory to come down a bit further!) The SIIG card reader takes four drives which I don't like, otherwise it's decent enough with a dedicated microSD (TF) slot. The Trio 8GB 7" mp4 player WAS a steal at only $20. But it's going back to store, since yesterday I can't power this sh*t on! Called the manufacture, support guy suspects the battery is out, which I only had it for two weeks?? How unreliable is this… Lessons learned, never get unnamed brand… Last is the HDMI 1.4 cable with ethernet built-in. This was much better than the HDMI 1.3 cables I got last year from cablesunlimited.
So that's pretty much what I got for this year.
Next are the entertainment stuff. There are MANY crazy prices for Blu-ray boxsets this year. The price/disc is even better than the end of 2007 when SONY defeats Toshiba's HD-DVD. Anyway, I got the following, six movies for less than $40 after tax: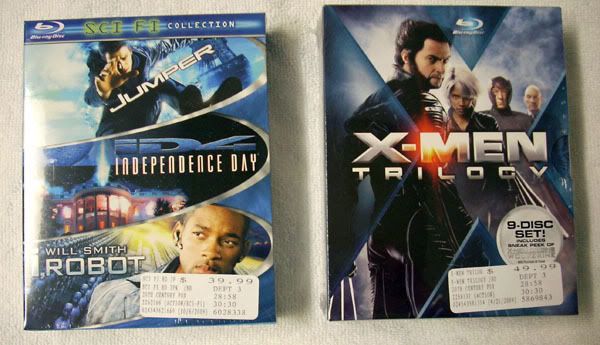 And lastly, the order in Sept from Sony rewards has been cancelled by me since I got the move bundle from Amazon:


I got tired waiting for Sony, since Amazon's price is not too bad, I went ahead and placed order, got it within 3 days instead of endless waiting. Now just have to wait for Sony to reimburse the purchase by using my rewards points I got way back when I purchased my Playstation 3!