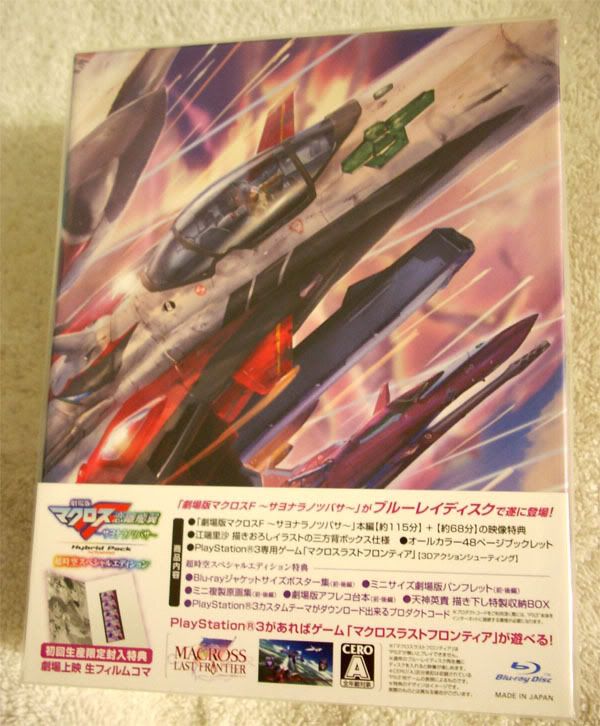 So after waiting patiently for two weeks, I finally got my Macross movie 2 Collector's Edition.
At 10,000 Yen, approx. $140 for this box, it's absolutely THE most expensive Blu-ray box I've ever spent, and it's only for a single movie (oh, well, a game too).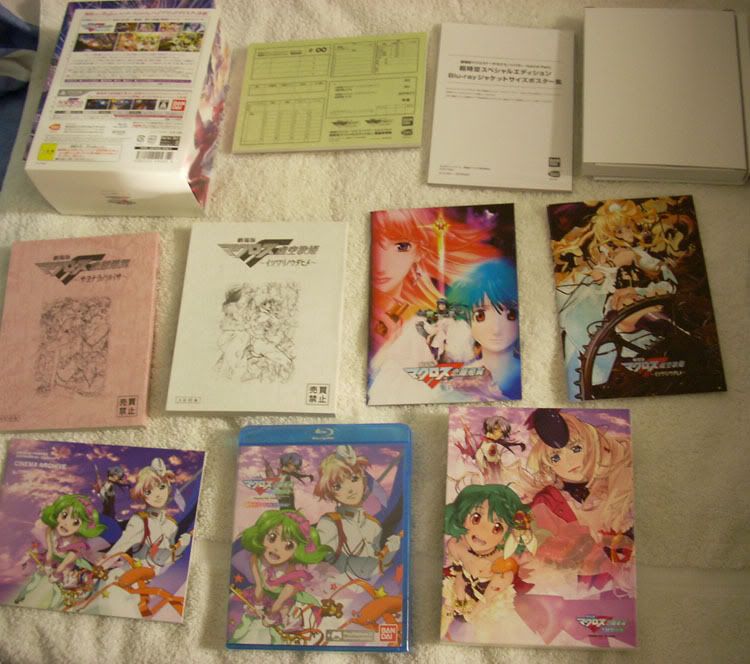 The collector's edition has more external bonuses, all the first and second row items are bonuses for this Hybrid special edition. If you buy the regular edition, you only get the bottom row stuff, which is the movie itself and a box. I think it's worth the extra $40 for the special edition.




The movie itself comes with a 48 page booklet and a box, same as last movie – Itsuwari no utahime (false songstress). Movie spec is 1080p 24fps video, LPCM 2.0 and DTS-HD MA 5.1, same as last time. It came with the game Macross Last Frontier. Unlike the movie's bundle with the Macross Trial Frontier, I think this is actually a full game. The game play is about the same, but it has some ground fighting inside MF islands mimicking the scenes from the movies. There are quite a few trophies, but it's a lot harder to get unlike in Trial Frontier.
Now moving on to bonuses for special edition. First you get the 原画 Original Drawing (60 total) collection and Blu-ray jacket posters (37 total) collection.


You also get the AR script books, print out ones. Each one has over 500 pages. This is a big reason I chose the special edition.
And you get the shrink sized pamphlets they gave away during the movies. I'm not sure how big the original is, but these are decent booklets. It's a bargain for the movie goers, considering the ticketing price in Japan isn't significantly higher than the ever increasing US prices…
Last thing for the physical goods is the film strip, I have a little better luck this time. I got Cathy Glass with Bobby standing on Macross Quarter's bridge.
Aside from all these physical goods, you also get redeemable code for two exclusive PS3 themes. Of course you need a Japanese PSN account. The themes are poorly made IMO, icons are very repetitive and not complete.


Now putting the two movies side by side.




The big box is designed to hold both movies. And it does fit everything as you can see.