So I just got the recently released SONY NW-A35HN LM from Amazon.co.jp. It appears that amazon japan started shipping even electronics to US now (the product has to be sold by amazon, not by third party). And the shipping is very reasonable for under $7, delivered in three days after shipment, all the way from Japan! Plus you don't get charged VAT. Only thing not so great is the exchange rate. I also got the silicon case with screen protector.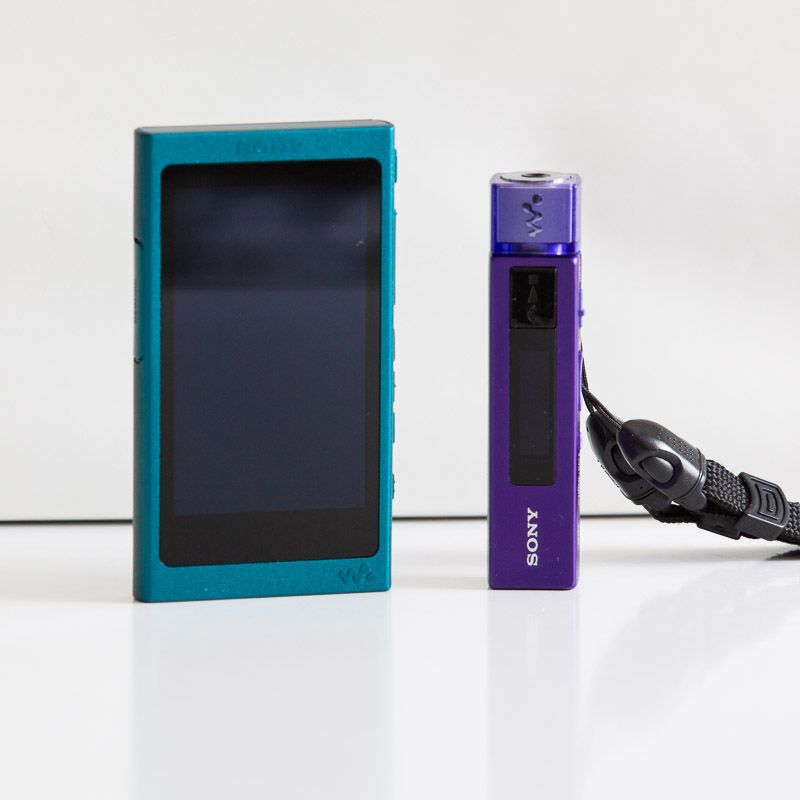 I had the NW-M505 Walkman for more than two years now. The player is much smaller than I had imagined by just seeing the pictures online. Maybe I was deceived by those NW-WM1A bricks… Should have checked the dimensions first.
Size comparison with a FiiO DAP which I rarely used mostly due to its lack of auto off feature. The A35 is missing a timer function as well… Oh, it includes a hole for attaching straps, very much appreciated.
This is the first High-Res player for me. I waited out A10 and A20 series since the NW-M505 served my general listening very well.
Now I want to move on to mostly playing FLAC tracks, especially those high bitrate FLACs from MORA and the like.
The player supports DSD also, but it's converted to LPCM internally, pure DSD signal can be output to SONY's DAP such as PHA-3. The player comes with 4 demo tracks.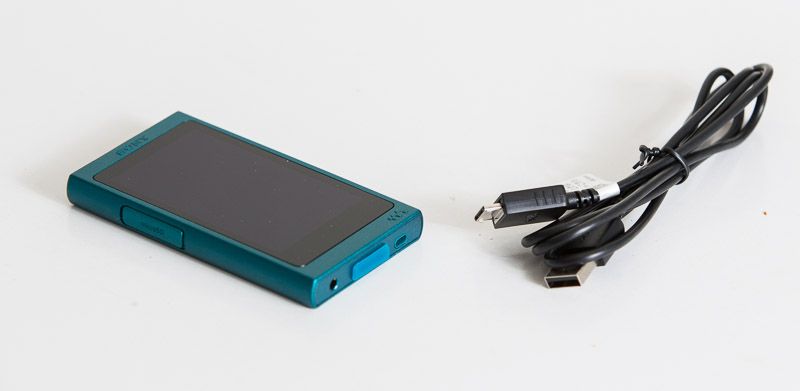 I chose the Viridian Blue color. Unfortunately the cable is a proprietary WM-port. Thus now I have to carry three kinds of USB cable, MicroUSB, USB-C, and this cable… The build quality is okay, it's definitely not giving you a premium feel. I do like the square-ish design as I don't like rounded corners that much. The device is a lot thicker than modern day cellphones.
The matching color schemed silicon case seems a lot brighter than the player itself. The screen protector is easy to apply thanks to the small size screen. The color temperature of the screen is on the cool side, resulting in too much blue tint to my eyes. Unfortunately there's no option to adjust the color temperature in the UI. The 3.1in 800x480 resolution is definitely on the lower end nowadays. But the point of this player is a music player. SONY seems to have learned their lesson that full blown android music player does not work so well, therefore they scaled back to basic music playback function this year. Since this is the first generation of touchscreen A series player, the UI is somewhat sluggish, but it's not too bad. Also the physical buttons are still provided. The silicon case makes pushing the keys hard, I'm still debating if I should have the case on or not. There is also a cover type protector, it has magnet so that when flipped open, the screen lights up automatically. The hardware buttons do not light up the screen thankfully.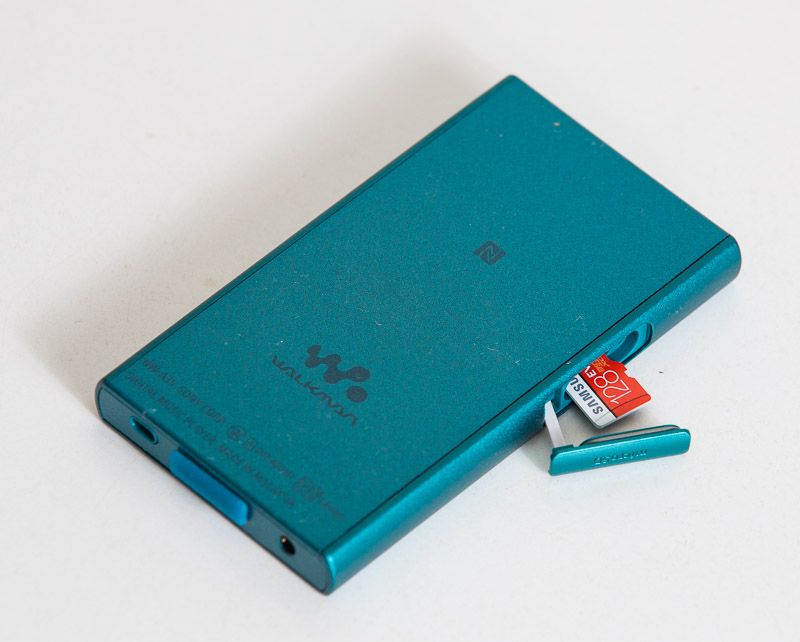 The main appeal for me is that the player supports microSD cards. I'm pretty sure it supports higher than the advertised 128GB limit since the previous gen A20 series already supports 200GB as reported by someone here. Therefore I only got the cheapest 16GB model. The system seems to treat both internal and external storage as one big drive. As when play all is chosen, all songs are accessed.
The microSD cards should be formatted as exFAT if they are over 32GB. SONY has claimed they conducted tests based on a 20000 songs combined on internal and external storages that the player will be operated smoothly.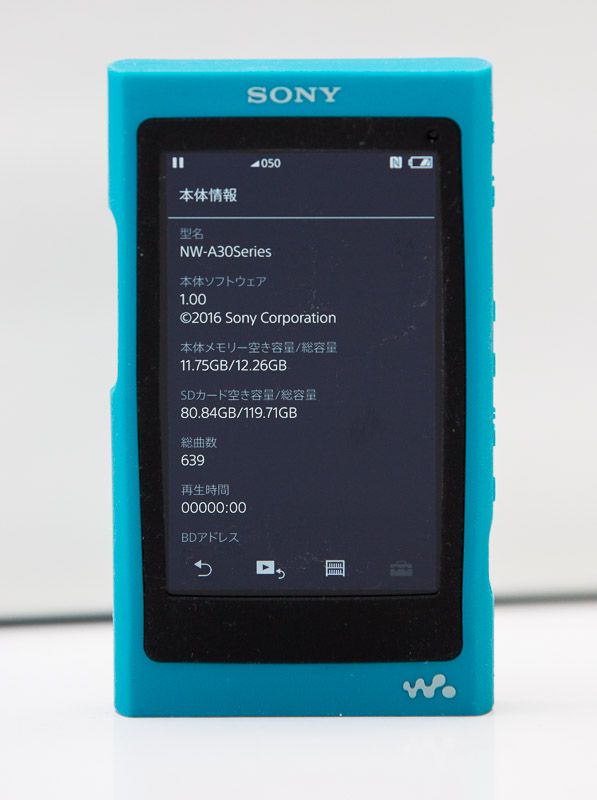 As being a Japanese model, there is only Japanese interface. While the Chinese model provides a number of language options: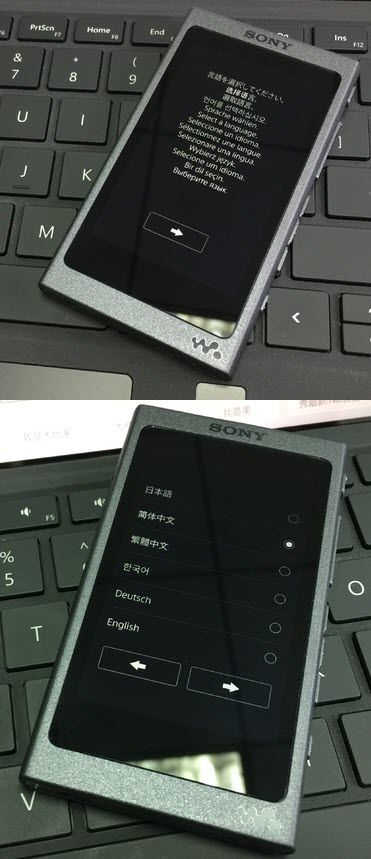 But I'm a firm believer that there are quality differences between products released in different regions, even if they are manufactured in the same place by the same factory. Therefore I imported this player from Japan instead of China. Considering the devaluation of Chinese yuan, importing from China seems quite appealing, but I would rather pay some premium for a Japanese model. I've seen some complaints on the build quality from one Chinese forum saying that the back has slight bulging issue. I did not notice such on my machine. Although on the initial release of the Japanese model, some machine suffers from mixed display of English for the menu so that SONY has to stop the sales temporally.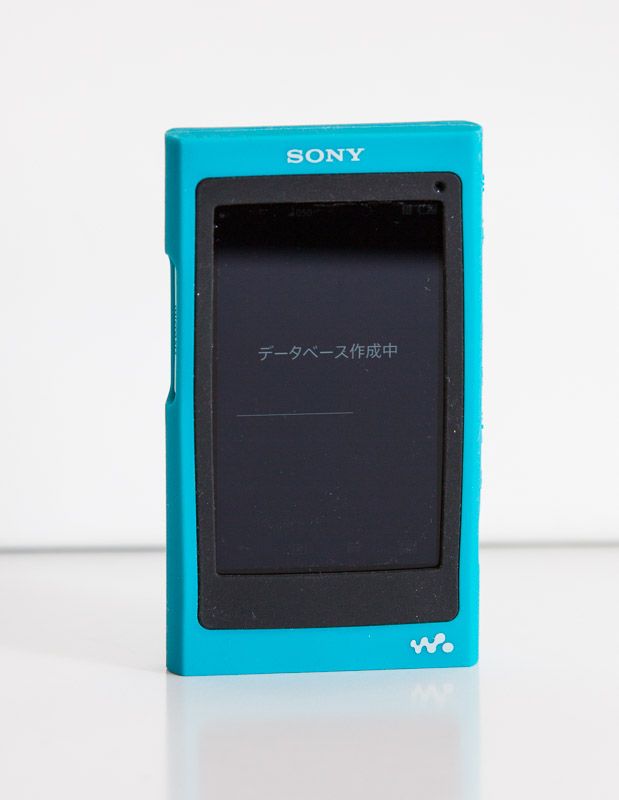 Unlike M505, the boot time on this player is very long, depends on how many songs you have, it updates the database every time, it could take 30sec to 1 min to complete the boot sequence. My solution here is just to leave the machine on all the time, the standby doesn't seem to drain battery much at all. When you unplug the audio cable, music stops automatically.
I used two headphones to test the audio quality. Tested with MDR-7506 first, a wired monitor. It sounds very flat, which is the overall signature of the player. The M505 has a warmer sound than this player.

The digital processing on this player is called S-MASTER HX, an upgraded version of the M505's S-MASTER MX. I have to turn on ClearAudio+ to get more flavor out of the music tracks. Here are a list of sound effects the player supports:
Turning ClearAudio+ will override all these processing. The major difference is that SONY removed CLEAR BASS. So if you like more bass, you might want to have a headphone with extra bass in it. The Equalizer has 6 bands now instead of 5, with added 60hz, probably to compensate the lack of CLEAR BASS? I have yet to play around with Equalizer option, it supports two custom settings aside from a handful presets for different genres. DSEE HX is the solution for poor audio quality sound tracks, it tries to improve the low bitrate mp3 tracks to better sounds. DC phase linearizer linearizes phase shift for low frequency, simulates analog amplifier sound, haven't tried this option yet. VPT is a simulated surround sound option, haven't tried this yet, probably never will. Dynamic Normalizer tries to normalize audio volume among different sound track so that they sound in about the same level.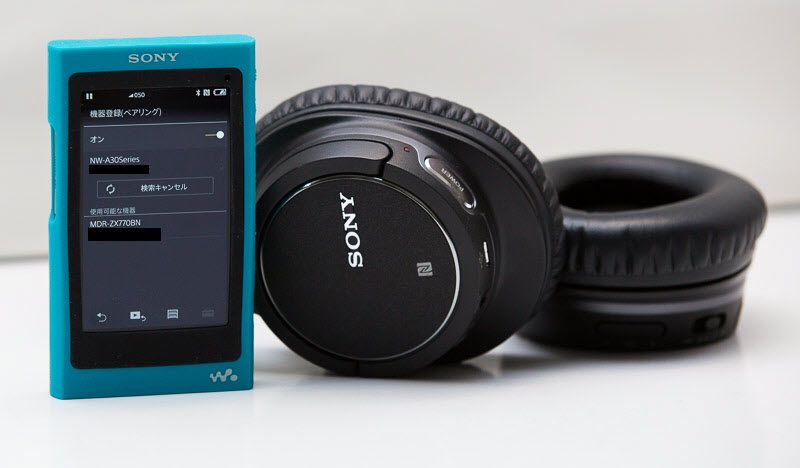 Now switching to the wireless headphone, a SONY MDR-ZX770BN. This player comes with support for Bluetooth ver 4.2. Unfortunately there is a mismatching on the devices here: The 770BN headphone was 2015 product which support SBC and APT-X codecs only, while the 2016 A35 music player support SBC and SONY's proprietary LDAC codecs. So the best sound I could get is only the SBC codec. I don't think this sounds as good as the connection from my XPS 13 laptop. Sound is quite muffled here.
The player supports NFC for easy pairing of the Bluetooth devices, therefore the back of the device is plastic to allow signal to transmit, while the front is made of aluminum. As far as Bluetooth usage, the player can pair speaks and headphones for audio output, but it won't accept any Bluetooth signal such as from the cellphone or laptop unlike M505. The player supports Bluetooth remote control, I tried to pair with an Android Bluetooth remote, but it couldn't recognize it. So I guess the only remote it supports is the official SONY one which cost quite a bit.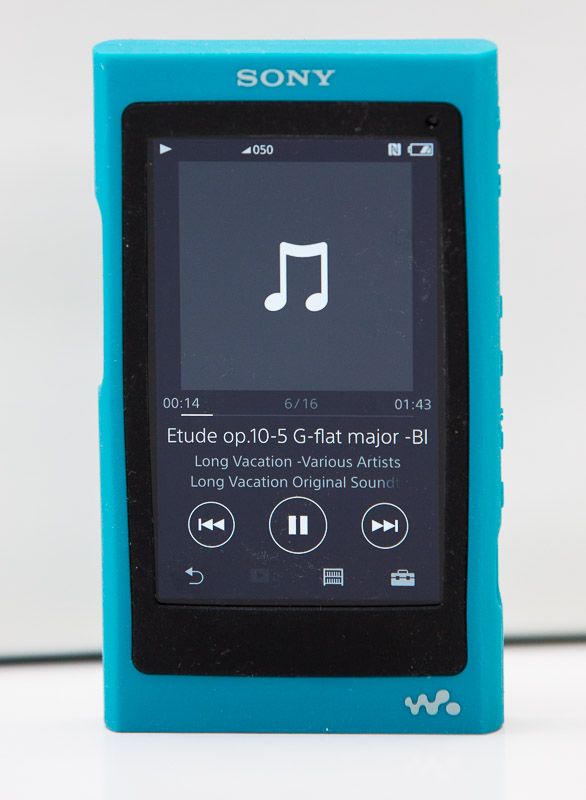 The output power has been upped quite significantly on this gen, 35mW+35mW(16Ω)compared to mere 10mWx2 from previous gen. The volume is divided into a whopping 100 levels, compared to a mere 16 levels on M505. The menu supports gestures during playback. You can swipe four directions to get to different settings easily. There is on-the-fly bookmark and playlist features. I just wish the UI has a dropdown notification like Android where you can toggle Bluetooth and NFC on/off quickly…
I've also been playing around with Medio Go software a bit since finding out simple drag and drop seems to have missing album artwork and some songs have missing characters. One major problem is that Media Go does NOT treat internal storage and mounted storage equally. It supports auto audio track recognition and artwork from Gracenote, but only on the songs that's stored on internal storage. The solution is to mount the external storage as a mount point on the C drive. And then point the directive to the one on C drive inside Media Go. This has been worked flawlessly to find most of the albums missing info. If you insist to skip Media Go and use drag and drop, do note that the album artwork SONY players supported are baseline jpg only. If you happen to download progressive jpg or png files, they will NOT show as artwork.
Other features on this player includes FM tuner, voice recorder, lyrics display, language learning which I have yet to play around with.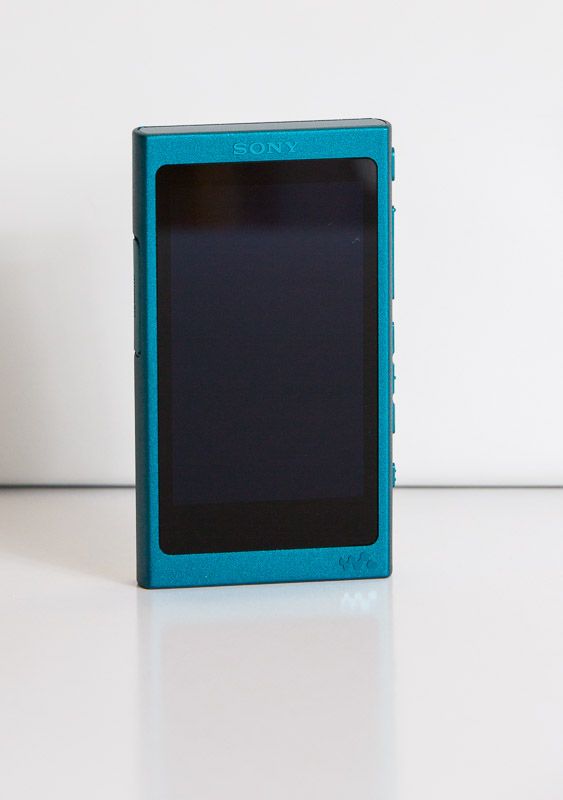 A final conclusion on this initial impression report is that I'm pretty impressed with this little player. I just need more time to get used to the interface and play around a bit more to have a proper opinion on this machine. So far it shows pretty promising.