So here is a look back at various MVNO cellphone services I've tried so far. Since I don't use my phone for calls or texts a lot, I'm mostly looking at cheapest option possible. And I live in big city, so any of the big 4 network all work for me, I have no preference of one carrier over another. I don't travel in US domestic most of the time. As far as MVNO are concerned, roaming are usually not supported. Also my main number is a google voice number, it made switching carriers super easy. Text messages including MMS on google voice is also free.

1. PTel (PlatinumTel, T-Mobile MVNO) 2013-2015, company went under in January 2016



Various unlocked GSM devices used with this service, including LG Optimus L9 that broke after only 6 month. SONY Xperia ION L28at lasted for a bit longer than a year. LG G Flex for more than a year.

This is the first major service I have after moving my phone service from expensive T-Mobile monthly bill. I usually used a $40 for 150 days pay as you go service. There were usually coupons available to make it even cheaper. Costs were 5 cents per minute for calls, 2 cents for texts, and 10 cents per megabyte of data. The best thing about this service was that any remaining balance roll after refilling. The only downside about this service was that data was very expensive at 10 cents per MB, but otherwise it's almost the perfect plan. For customer service, I only used emails for communication for 2 to 3 times, they were helpful at porting in numbers and billing processing.
2. H2O (AT&T MVNO) 2016
Verizon LG G4 (GSM is unlocked by default) and Oneplus 3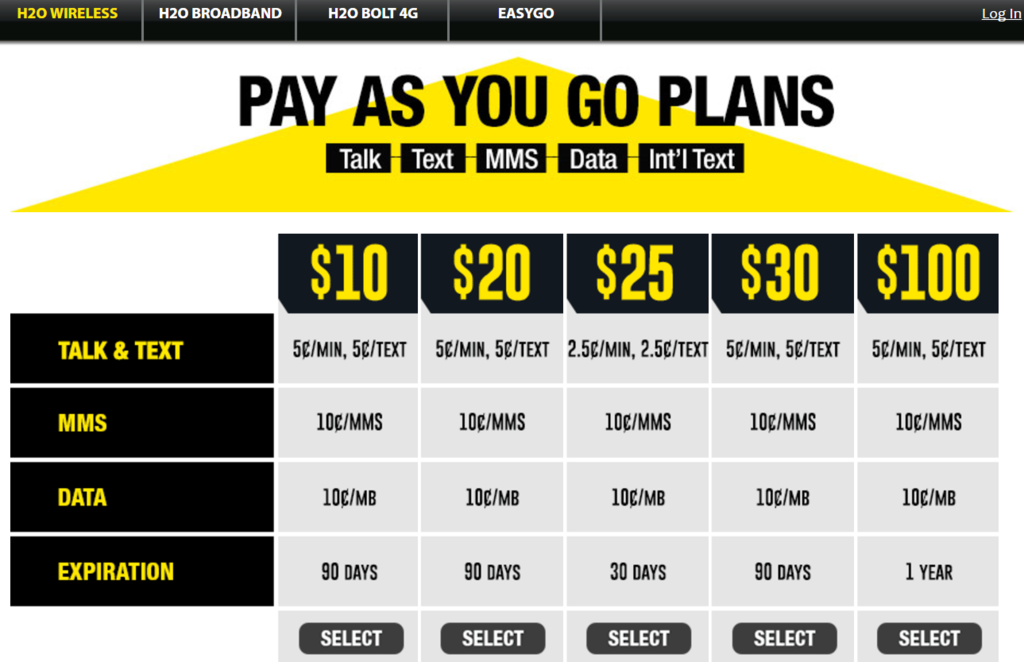 After PTel went under in January 2016, I have to move the service to H2O. They offer similar pay as you go rate as PTel. I usually used a $10 for 90 days rate. Costs were 5 cents per minute for calls, 5 cents for texts, and 10 cents per megabyte of data. The downside is that the remaining balance did not roll. If you didn't use up all the balance, they were gone after refilling. It wasn't a super good alternative to PTel. For customer service, I have to call them for port in, they were helpful and the operators are US based. The website is very unintuitive, I never got it work under Chrome. The good side is that the SIM cards are cheap. It's good for those port-in promotions if you ever want to try some new service.
3. Ringplus (Sprint MVNO) Nov 2015-Jan 2017, company went under in February 2017
Sprint locked LG Volt
This service was fun while it lasted. It certainly has changed my way of using cellphone service. The plan I had was Leonardo 4. (they must at least have over 100 different plans over the one year span) Free: $0 for Unlimited RingPlus-to-RingPlus Voice & Text + 1400 Voice, 1400 Text and 1200 MB + tethering per month. My cost for the entire 1 year and 2 months was only the phone and the $20 top up ($65 total including tax). The LG Volt is a very basic android phone, but since tethering is included, I just use the hotspot feature, the connection was mostly stable. The service changed two ways of how I use cellphone: 1. Now I carry two cellphones all the time, it doesn't feel too much of a burden since the LG Volt was small enough. (Now upgraded to Samsung Galaxy S7) 2. Data, now I can't live without data. On average, I would consume 600MB-800MB data per month for light browsing, social media, and Google Maps. Ringplus also had the most intuitive user interface for all the carriers I've tried. Although towards the end, the optional add-on seems quite confusing. No, I'm not bothered with the ringplus radio every time I make a phone call. A perk that I see no others have offered is the Fluidcall, which is VOIP based phone number. You can use your number anywhere WIFI is available. This also gets around the restriction that you account gets deactivated if no activity for 30 days (or 60 days?). This is useful when I travel out of the country. Although it seems blocked in China, using a VPN resolves the problem. Too bad they couldn't figure out a working business model before it's too late. Those ridiculous offerings towards the end is a pretty clear sign that they can't last…
4. Cricket (AT&T MVNO), Dec 2016
Oneplus 3
I only signed up for this service to terminate the H2O service by porting in the number, also got a pretty decent sign up bonus. I had the $30 plan for only one month. Unlimited talk, text and 1GB data. Customer service is helpful in port-in my number. Other than that, I can't say much about this service. The advantage of this service is the group plans, the best value got be the $100/mo for 5 lines, each line has Unlimited Talk, Text, and Data access - with 4 GB of high-speed data. But unfortunately I don't need 5 lines. There are also perks like rewards points and referral bonus.
5. Project Fi (Automatically switches between T-Mobile, Sprint, and US Cellular)
Nexus 5X and Oneplus 3
To get started with project Fi, the cost would be a bit steep as they only support very few devices. I got a Nexus 5X to just try out this service. It is particularly convenient for travelers as it supports over 135 countries so that you don't have to buy a local sim card. Depending on where you travel, the cost may not be that attractive though. The plan is $20 for unlimited talk and text plus $10/1 GB of data. You get refunded for any unused data. They also offer free data only sim cards that you can put into any unlocked GSM device.
One particular good usage for this service is to get around the GFW in China as all data are routed back to US before sending back to your device even though you are roaming on Chinese local network. This means you can access Google, Facebook, Instagram etc which typically are blocked in China without using a VPN service. Google map is subject to geoshifting in big cities such as Shanghai.
Project Fi uses China Mobile (default) and China Unicom as partners when you roam. If you manually forces to use China Unicom, you'll get at least 3G HSPA+ speed in rural area and 4G LTE in big cities. Although the latency could be very high (400-500ms), I have no trouble using VOIP such as Hangouts to call any US number. I end up cancelling the service since the cost is too much for what I need in US domestic. It takes 3 months for Google to refund any remaining credits or deactivate your phone from their network. Maybe later whenever I travel to China, I will restart the service and then pause the service when I don't need it.
Project Fi also offers perks such as referral and FlyWithFi travel trolleys in certain US airports. Also when the service is paused, you get refunded. So it might be possible pause it before you sleep and resume the next day when you awake to save 1/3 bill. This is a stretch though.
6. Tello (Sprint MVNO)
Sprint locked Samsung Galaxy S7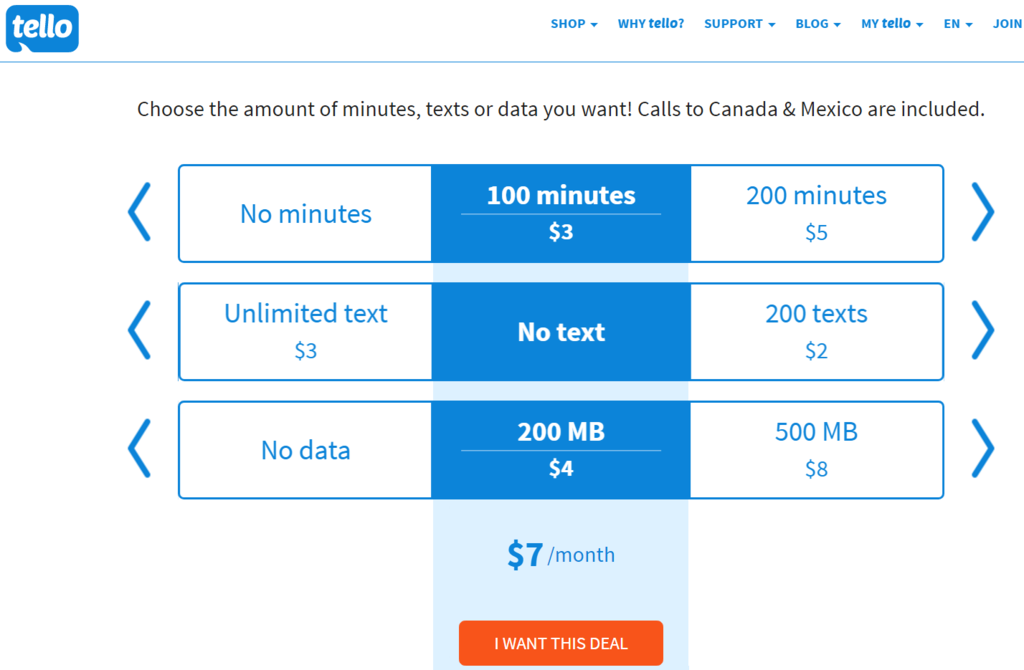 This is a newcomer in US market, it just celebrated its first anniversary. It's introduced as one of the options when Ringplus went under. It's basically Ting without the mandatory $6 monthly fee. The lowest monthly plan with data (must be greater than $5) you could get is 100 min+200MB data which will cost $7 plus taxes. The data is 200MB LTE then throttled to 64KB afterwards. I also find that if you manually switch plan each month, you could keep your unused minutes rolling. This is now my daily driver since it's about the cheapest plan I could find. Hope this company will be there with the same rate for at least the next 3 years to justify my impulse purchase of the locked Galaxy S7.
7. FreedomPop (AT&T MVNO)
Oneplus 3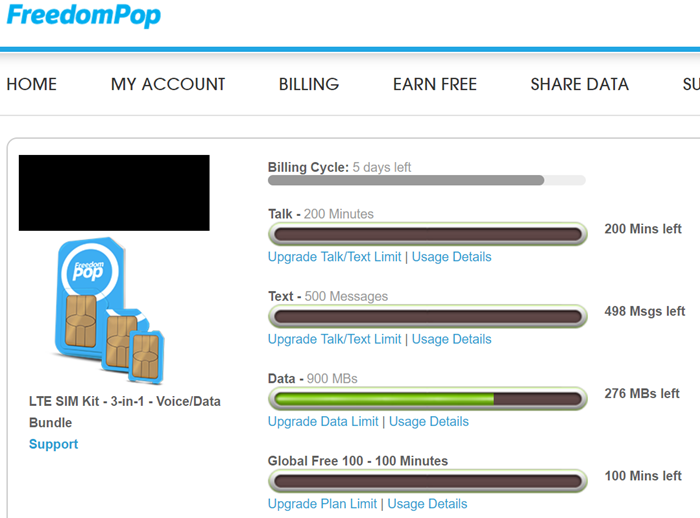 This is the type of company that lures people in by offering free data plan (voice and texts are strictly VOIP based), then charging people base on their ignorance. This is much like ringplus but they have a sustainable business model. I have been using it for almost 5 months as an alternative to ringplus free data. It works fine so far as I have followed the instruction to disable any charges. They uses three different carriers, CDMA with Sprint which gives free 500MB base data; GSM with Three UK roaming on AT&T, aka 3G Global which gives free 200MB base data; GSM with AT&T, aka 4G LTE which gives free 200MB base data. All plans you can add 10 friends to get additional 500MB bonus data which is pretty easy to do. It's also possible to give upto 100MB data each month if you have multiple accounts or actual friends who have no use of their data. The 3G Global sim data are routed back to UK which gives huge latency, and the connection is persistently slow, I would highly suggest get the 4G LTE sim. The user interface is pretty terrible as it's designed to get you confused with hidden charges, the plan, the service, and the credit are all in different sections. To cancel plan or service, you have to click those tiny texts that you will need magnifiers to see. The credits to stop the auto charge are disabled randomly even though I have used at least 5MB data each month. People are also experiencing downgrading bugs.
The plan is strictly data based. In order to use VOIP for calls and texts, you have to use their app. I tested it briefly and it seems to work fine. But I prefer simpler ways to just use google voice app or hangout dialer. There are ways to extract user name and password from the app to use in any VOIP app, but I haven't bothered to try it out. The service itself seems pretty good despite all the quirks.
Summary:
So far, I'm pretty happy with Tello with the $7 monthly plan. But if you don't want to be locked into Sprint which has only limited support to very specific phone models and Sim cards.

The next cheap and reliable service seems to be MintSim's 3 month for $35 promo plan with unlimited talk, text, 2GB LTE data which is on T-Mobile. Just use google voice and change service every 3 month. This would be my backup plan if Tello ever increases price or going under.