This one will be released on 11/27/2009 (actually delayed a month), a month later after its DVD counterpart (the DVDrip was all over the place now though, 10 days before its release…)
The contents should be the same as the DVD.



内容紹介
あの伝説のギャラクシーツアーが遂にBDリリース決定!!
武道館ライブを中心に、いずれもプラチナチケットとなったマクロスFライブの模様を収録!!
こんなサービスめったにしないんだからね
【毎回映像特典】
■ライブダイジェスト(Zepp Tokyo,パシフィコ横浜)
■ドキュメント映像(May'n. 中島 愛のコメンタリー付き
【収録内容】
■マクロスF ギャラクシーツアー FINAL in ブドーカン
Frontier 2059 ~ プロローグ ~ 2人のダイアモンド
始動 ~ What 'bout my star?@Formo
娘々スターティングメドレー
ニンジーン Loves you yeah!
アナタノオト
私の彼はパイロット
TALK 1
ねこ日記
星間飛行
射手座☆午後九時Don't be late
Welcome To My FanClub's Night!
ノーザンクロス
ランカのアイモ
シェリルのアイモ
アイモ O.C.
インフィニティ
追憶のトランペット
蒼のエーテル
ダイアモンド クレバス
妖精(アコースティック)
愛・おぼえていますか(ブドーカンスペシャル)
フォールドout ~ 真空へ!フライングギター
娘々サービスメドレー(ブドーカンスペシャル)
■ENCORE
Private Army
ライオン
射手座☆午後九時Don't be late(アンコールバージョン)
星間飛行
TALK 2
アナタノオト
SMS小隊の歌~あの娘はエイリアン
High School Life
Piano with May'n and Megumi
Piano solo
<キャスト>
May'n/中島 愛/菅野よう子 他
内容(「キネマ旬報社」データベースより)
人気アニメ『マクロスF(フロンティア)』の音楽ライブの模様を武道館公演を中心に収録。本アニメで一気にスターの階段を駆け上がったMay'nと中島愛が、菅野よう子プロデュースの舞台で弾けまくる。大ヒット曲『ライオン』ほか全30曲を収録予定。
Live Blu-ray features footage of event "Macross F Galaxy Tour Final Konna Service Mettani Shinaindakarane in Budokan" on November 5, 2008. Appears May'n, Megumi Nakajima, Yoko Kanno, and more. Bonus disc features digest footage: "Macross F Jiku Super Live at Zepp Tokyo" and "Macross F Galaxy Tour Final at Pacifico Yokohama," plus live documentary.
Spec:
片面2層
2枚組
240分
16:9
1080i
(1)ドルビーTrueHD 5.1ch
(2)リニアPCMステレオ
BCXE-0216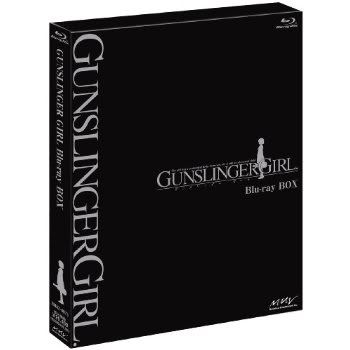 Next is Gunslinger Girl has an updated picture of it's Blu-ray Box – All Black, which feels like some sort of noir film. Well, black fits the themes pretty well. Can't wait for this release, but the high price about $230 shipped is gonna scare people away. FUNimation is gonna release this cheap in March next year. And it's confirmed as the US release will be an 480i/p upscale. So it's definitely gonna be quite interesting in comparing the two.