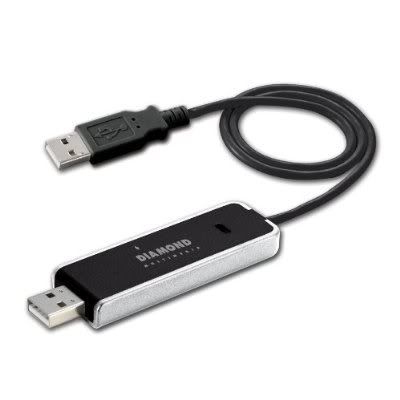 So I bought this Diamond USB PC to PC File Transfer Device for the purpose of getting some money back after rebate. But it turns out that it is quite useful in my particular PC setup as well. So here I would like to give it a short review of what it can do…
By connecting this device between two computers, you'll see a virtual CD-ROM, the file management software will launch. The following is the interface:
So it shares the entire drives between two computers.


This is the copying progress bar. The transferring speed is on par with most USB 2.0 devices. No complaints here.
So this device has the following pros and cons:
Pros:
1. Extremely easy to use. Recognizes disks immediately. Tested under winxp and win7.
2. Shares all drives between two computers.
3. Transfer speed is decent as long as it's working under high speed mode.
4. Recognizes unicode files, no problem with Chinese, Japanese, etc file names.

Cons:
1. Have to launch the file manager on both sides to make the connection work.
2. Device runs quite hot.
3. Copy paste mode only, cannot access file using other applications such as playing movies directly. Everything has to be transferred to local drives from the other computer.
4. NO MAC?
So you might ask why do I need this when I can just use a switch to share between computers or I already have an external hard drive. For the former one, it solves the problem of two computers that are not within the same network. I happen to have two PCs on two different routers, so file sharing has been problematic. By using this device, I can bypass the limitation and do direct transfer, not to mention I see all the drives instead of the ones I share on the network. For the latter one, external hard drive DO has its advantage as it's working locally, while this device can only transferring files under its proprietary file manager. It's more convenient if you files are not on the external hard drives, it saves the process of transferring the data to external HDD, then to another PC.
So overall it's an unexpected gadget I'm extremely happy with. I'm using it almost everyday now. I would recommend it to anyone who's looking for a file transferring/backup device.