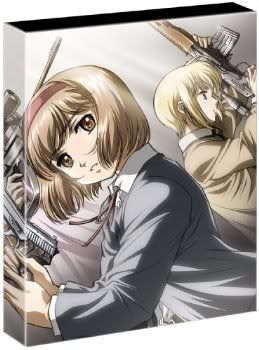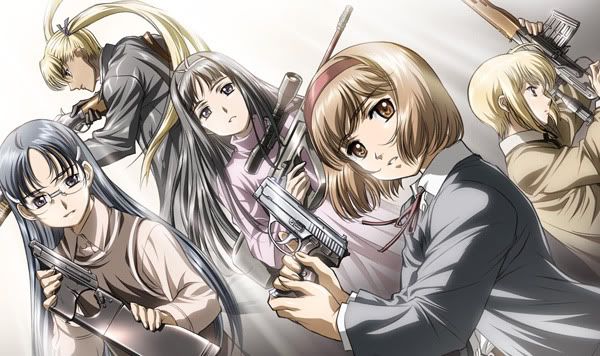 Per the official web,the Gunslinger Girl Blu-ray BOX is scheduled to be released on 10/23. It is produced in 2003 by madhouse, there are 13 episodes total. The specs: video is 1080i, audio is Dolby TrueHD 5.1(newly remixed from original stereo). Special features are only non telop OP and ED,two BD50s. Disc 1 has episodes 1-7, while disc 2 has episodes 8-13. MSRP is ¥28,000 which is quite expensive for a catalog release. Not to mention that it'll probably be an upscale since the production year was quite early.
First press includes post cards. Booklet is also included. And the packaging is infini box (not sure what this is, looks like some kind of digipak from pictures on other releases.) As you can see, the box illustration is brand new, the style is somewhere between season 1 and season 2. The only thing not included from the original DVD release is the original stereo mix, and 3 commercials for PS2 games.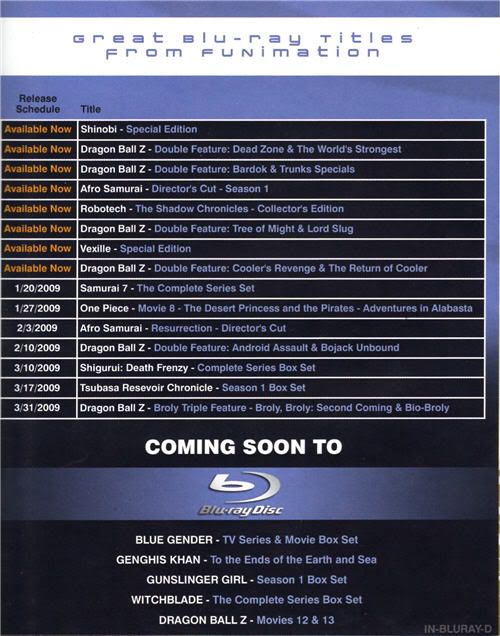 This title was originally a few of the to-be-released Blu-ray titles on FUNimation's Brochure. But now instead we are getting kodakawa/KyoAni's Full Metal Panic TSR (upscale) and GONZO's Burst Angel (another possible upscale) which came out nowhere…


Season 2, produced in 2008, is also being released on the same day, it is done by Artland which has completely different animation style than Madhouse, not to mention its mediocre animation quality and story. There will be 13 TV episodes plus 2 OVA episodes. The biggest problem is completely changing the casts to some no-name seiyuu, which is such a let down. Spec is 1080i for video and Dolby TrueHD 5.1 for audio. There will be four discs total, 5 episodes each for the first three discs, and the last disc is completely dedicated to quite a few of extras. Not sure if these are BD25 or BD50, BD25 should hold 5 episodes without any problem, but bitrate will be suffered (more in line with FUNimation's disc). The price is ¥5,000 more than season 1 box. But since there are 2 more episodes, it' is actually cheaper than season 1 box by episode counts. Not sure if this one will be upscale or not, being 1080i indicates that at least some segment in it are done in 30i.
Now I don't understand why media factory (distributor) chooses to release two boxes on the same day. I don't think a lot of otaku will be willing to shell out ¥50,000 at a time. But since season 2 is truly mediocre, I don't think many people will pick it up.