I've been using TVersity as my PS3's DLNA software ever since I got it. First used windows media player, but it doesn't support *.ts, *.m2ts very well, also there's a problem enabling sharing service on my DELL laptop, so I quickly switched to TVersity and never looked back since. While TVersity isn't perfect, I generally am satisfied with its performance, especially the quality of streaming high definition *.ts, *.m2ts (Blu-ray files straight from BDMV folder without any remuxing, etc) without transcoding. Yesterday, I was finally determined to give PS3 Media Server (2) a try after hearing so much praises about it.





TVersity uses some kind of flash GUI, which I never liked. The transcoding function works on my HP machine, it's a bit slow, but it works. The transcoding image quality isn't very good… But to max out image quality, I always disable transcoding, for anything that isn't playable, just use PC, or do yourself a favor, get a WDTV or something until SONY opens more audio/video support on PS3 (which is highly unlikely). The one aspect I liked is it refreshes contents quite fast, and do them prior to appearing on PS3. The reason I still keep on using this is because of its excellent support for *.ts, *.m2ts files without any remuxing. Standard TV recorded *.ts files with mpeg2+ac3 encoding reads right away. m2ts files from Blu-ray is a little problematic, if advanced audio codecs (Dolby TrueHD/DTS-HD MA) are used, then first PS3 will not recognize the play time correctly, usually shows 10:00:00; second the file can be played if there's non HD audio codec (LPCM), but the time searching function is very flaky. Also, the new version TVersity, not sure starting from which one since it updates quite frequently, can display Blu-ray menu (title menu) without the overlaying highlights.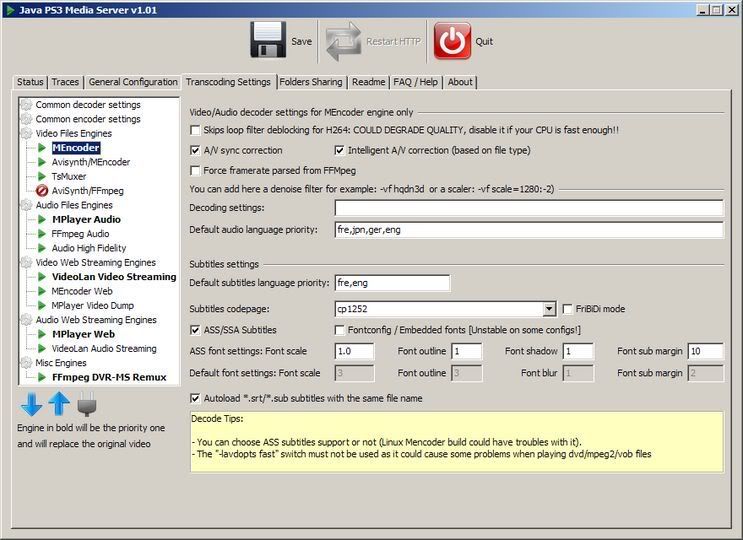 PS3 Media Server is more for J6P people who don't care about quality, but just the compatibility. It transcodes mkv files pretty well, also supports mp4, mpg without transcoding. It also plays DVDISO with separate language/subtitle options via transcoding. It tells you which files are being transcoded and which are not. Also it generates thumbnails. You can also enable/disable basic setting directly in PS3 which is neat. All these aspects beat TVersity hands down. The transcoding quality are ok for the media files, but mediocre to terrible for DVDISOs, especially interlaced contents. After enabling the de-interlacing option, the interlacing goes away, but the DVD looks like crap still. Also it seems that enabling de-interlacing will cause it transcoding all m2ts files no matter what.
The biggest problem is its support for *.m2ts files, which is what I mainly use DLNA for. It wants to transcode everything, even on the files that don't need transcoding, PS3 chokes on the playback all the time. (While PS3 would choke on TVersity occasionally too, but it is only caused by the hard drive being busy reading other stuff)
Audio file transcoding only works on FLAC, APE and tta aren't supported. One mkv file muxed with DTS auido is transcoded to 640K ac3.
So after after all, TVersity is the keeper; PS3 Media Server, maybe I'll revisit it later.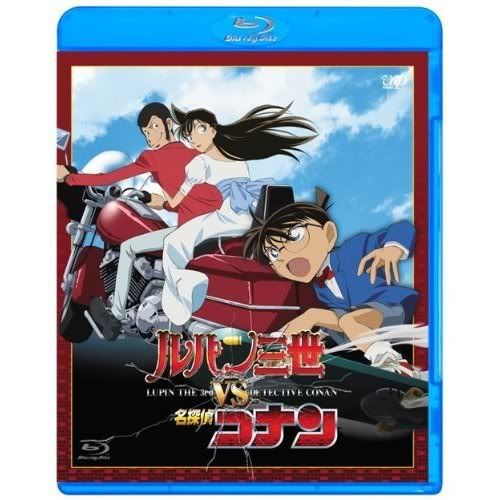 Lastly, don't want to open a new post, ルパン三世 VS 名探偵コナン Lupin the 3rd vs Conan Blu-ray's cover is out. The disc will be due out on 7/24, will remember to check out any Blu-ray rips if they are available, since I quite enjoy this collaboration work between these two franchise. Spec: video 1080i avc, audio LPCM 2.0, BD50, run time: 103min.