So this is the bargain I hunted down for this Black Friday, not too much effort though, just happens that Bestbuy in my area still had few left over. I'm truly in desperate to find a deal on notebook since the old Toshiba was
broken
and my mom has to use my notebook which I'm not happy with her messing around. I wasn't sure which brand to buy beforehand. I don't like the Taiwan brands (ASUS, acer, MSI, etc), nor some US brands (HP, Gateway, etc) from my past shopping experience and feedback. So I'm glad that this one pops up nowhere which saves me a lot headache to choose which brand, despite it's another Toshiba...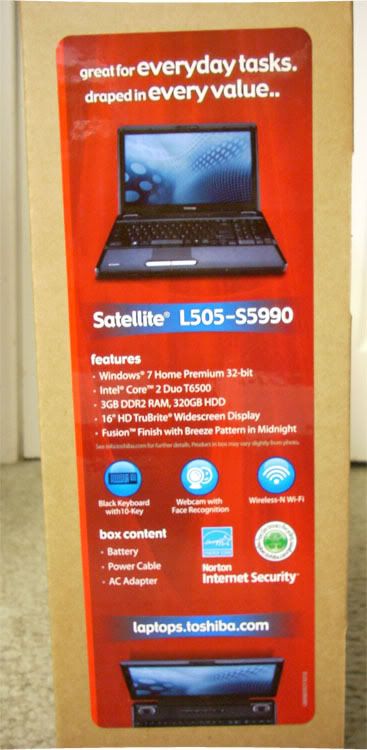 The one I was supposed to get is L505-S5984, but when I got there, Bestbuy was running out of this model, instead they gave me this one, which has a larger hard drive (250GB vs. 320GB here), but lower speed DDR2 RAM (DDR3 for 5984, which means 5984 is actually a step-up from 5990? since the motherboard must be newer to support DDR3). Plus I lost a chance for getting $40 bing cashback from M$. So anyways, I got a Japanese brand notebook with Intel Core2Duo T6500, 3GB DDR2 RAM, 320GB HDD, Intel onboard GMA 4500MHD graphics card (no HDMI out), 16" LCD with full size keyboard, integrated webcam all for $450 after tax and environmental fee out the door. I don't think there's gonna be a better deal than this in the next 3 months, for $400 you can only get an Intel Pentium dual core processor at best, which is considerable step down from Core2Duo ones.
L505-S5990 : Detailed Product Specs
Processor
*
Intel® Core™2 Duo Processor T6500
Operating System
*
Genuine
Windows 7 Home Premium (32-bit)
Memory Size
*
3GB
Memory Speed
*
DDR2 memory
Display Size
*
16.0" widescreen
Display Type
*
HD TruBrite® LCD Display
Display Resolution
*
Supports 720p content, 1366x768 (HD)
Graphics Engine
*
Intel® Graphics Media Accelerator 4500MHD
Hard Drive Size
*
320GB
Hard Drive Speed
*
5400rpm
Secondary Hard Drive Size
*
None Available
Optical Drives
*
DVD-SuperMulti (+/-R double layer) with Labelflash™ drive supporting up to 11 formats
Webcam
Webcam and microphone built into LCD bezel
Wireless LAN
*
Realtek® 802.11b/g/n wireless LAN
Bluetooth
No Bluetooth (No Antenna)
Inputs and Controls
TouchPad™ pointing device, 104 key US keyboard with 10-key pad (black), Mute button, CD/DVD Buttons (Play/Pause, Stop, Prev Track, Next Track)
Security and Protection
Security Cable Lock Slot, HDD Recovery
Modem
No Modem port
LAN
10/100 Ethernet LAN
Audio
Standard stereo speakers, Built-in microphone, Microphone jack (mono), Headphone jack (stereo)
AC Adapter
75W (19V 3.95A) Auto-sensing, 100-240V / 50-60Hz input
Battery
Li-Ion (4000mAh, 6-Cell)
Battery Life
*
Up to 3.32 hours
Media
Memory Card Reader
USB Ports
*
2-USB (2.0), 1-eSATA/USB combo port
Software
*
TOSHIBA ConfigFree®, TOSHIBA DVD Player, TOSHIBA Face Recognition, WildTangent® Orb™ Games Console, Ulead Label@Once, TOSHIBA PC Health Monitor, Norton Internet Security™ 2009 (30 day trial), Hard disc (HDD) recovery, Microsoft® Works Version 9.0, Microsoft® Office Home and Student 2007 Edition (60-day trial), TOSHIBA Disc Creator, TOSHIBA Recovery Media Creator
Weight
*
Starting at 6.0 lbs.
Color
Fusion™ Finish in Midnight Breeze
Standards
*
Energy Star Qualified, EPEAT™ Gold, RoHS Compliant
Standard Limited Warranty
*
1-Yr Parts and Labor, 1-Year Battery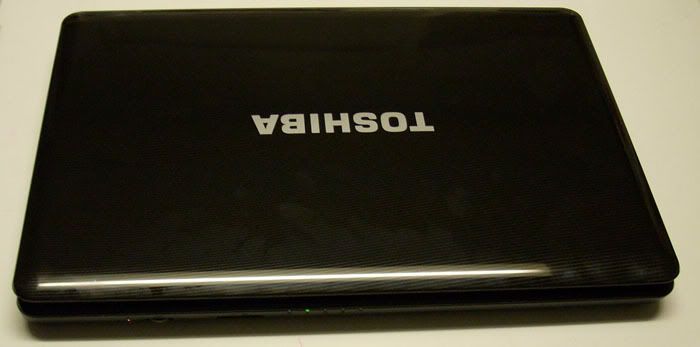 The build quality is decent. The overall design seems extremely close to the
HPs
I purchased two years ago. Eg. The case is another fingerprint collector… And the lid uses magnetic mechanism to control on/off instead of using a cheap plastic stick like the lower ends.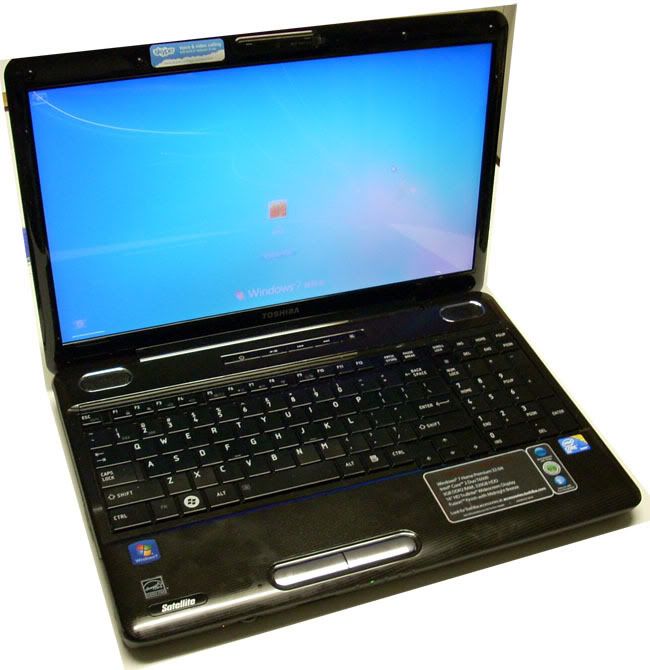 The initial impression, especially comparing from the old Toshiba, the screen is much brighter, but the reflection is pretty bad due to lacking of anti-glare coating, pretty similar to the HP 23in monitor I reviewed couple months back; and there's the unexpected full size keyboard, the speakers move up close to screen instead of closer to user. There's no instant playback function, but multimedia keys are there, on top instead of on the left, saving space for the full size keyboard. This machine is quite large, it's a bit longer than 15.4" notebooks, which I found the sleeves designed to hold 15.4" is a bit tight to hold it, and those notebook cooler/pad a little short as well. It's a bit slimmer than the old Toshiba though. It's quite heavy (6lb) though, but I'm NOT looking for portability…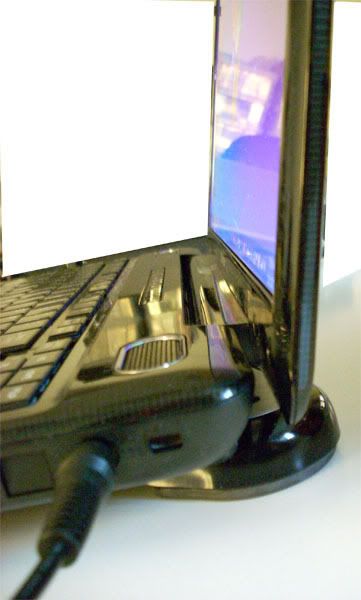 The hinge attached to the lid is placed inside the bottom of the screen frame, so that when screen is fully opened, it totally blocks the back side, therefore there's no input/output connector at all. Also the screen isn't capable of doing 180 degree full open, but it's not a big deal…
The screen is generally OK, but I really don't like this type of over reflective mirror-like screen. Maybe it would take the manufactures another couple years before they realize the consumers don't like them and start putting the anti-glare coatings, just like how 16:9 screens suddenly start flowing into the market replacing the old non-sense 16:10 screens… The resolution is 1366*768, 16:9@ 16in. The resolution is decent at this size, I don't want higher resolution, the text size is good enough right out of the box so that I don't have to use windows scaling option. The screen is ultra-bright which means it could go really bright, I only set it at medium, and my mom still wants it lower. The color reproduction is all right, I just go with the default setting. There's an integrated camera on top of the screen frame, and a built-in mic beside it. The camera performance is all right. Toshiba has the bundled software with face recognition feature, but I have yet tried it.
The touchpad is seamlessly built into the palm rest area, so that it looks quite attractive. But upon using it, I always found myself mis-operating due to the missing clear boarder of the touchpad. I think the clear boarder and making the touchpad lower than the palm rest area is a better design… I love the keyboard however, first of all it's a full size keyboard which includes the number pad. Then the keys are quite large. The response is a bit weird at first (feels too soft), but I did get used to it in a few days. And the "WIN" key is at the right place (left of ALT) instead of way up in the older Toshiba.
There's not too much expandability to the machine. Some components are missing, such as expresscard slot, dial-up modem/fax… On the left side is the CPU ventilation slot, VGA output, 10/100 LAN, USB/eSATA combo connector, audio output (earphone), and audio input.
So in terms of a moderately modern machine, it is missing HDMI output, I tried the VGA port briefly on a KVM switch, it wasn't able to output 1920*1080 resolution, not sure if it's the fault of the KVM switch, or the intel DMA 4500MHD is incapable of this resolution, or Toshiba blocks this resolution like my Dell D610… The LAN is only 10/100Mbps, which I was quite disappointed when I found out. Gigabit LAN should be the default equipment by now… (I can achieve sustained transfer rates of 20MB on a gigabit LAN as opposed of 10MB on a 100Mbps LAN, so the difference is quite huge). I haven't tested the eSATA port on that USB/eSATA combo connector, can't comment on the performance. The audio is from a Realtek ALC chip, there's some slight noise which I'm not very happy with, or I should say that I'm never happy with any Realtek audio chip in general... Audio input is not important so I'm not interested in testing it, plus there's a built-in mic already which comes with the integrated camera.

On the right side is a DVD double layer burner, two USB connectors, power input, and a Kensington lock hole. I haven't tried burning any double layer discs yet, but D5s are burned nicely when I was doing the initial backup. The only downside is that the placement of the burner, because I tend to hold the notebook on the spot, while the burner is pretty much empty inside, so that it feels flimsy at holding the notebook. I wish it could be placed somewhere else…

The front has a wireless LED (NO on/off switch), a volume knob, and SD card reader. I wish there's a wireless hard switch just like the old Toshiba. The volume knob is a little annoying because it's small and adjusts the volume in very small amount, so that you have to turn it a lot in hope of the volume could go down/up, which in the end I would rather just go click on the volume in windows. Also the volume knob is 360 degree, it doesn't give you the sense where you are at unless you go see the volume indicator in windows… The SD card reader is very handy because I DO have lots of SD cards, and my camera uses SD cards.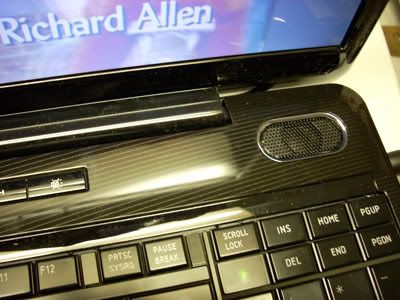 The speakers are terrible, much worse than the old Toshiba. The placement of the speakers also made the sound go off into the air instead of pushing towards you. I think the placement of the speakers is a design change to fix problems that prevent the machine from working when you touch the speakers from
what I read
when I tried to repair the old Toshiba.
There's not a lot of Toshiba software comes with this machine, I'm NOT sure how much advertisement software they put on there because I wiped out the HDD immediately after I finished making the backup discs. I installed windows 7 ultimate on it to take advantage of the multilingual addon. I installed a couple of Toshiba software, but I can't seem to find their power utility management software for windows 7. I missed that one because I really like theirs for the older Toshiba. The configure-free, wireless doctor or whatever is still available, which I think is pretty cool to see a topology of wireless signal location. Toshiba also offers their own DVD playback software which I installed but never tried it… There's also software for the webcam, I didn't play around with that too much, but there's not too much functions. I think there's still there own updating software, which I believe I installed that.
The performance of the machine is quite impressive. The operation is very smooth, opening applications are fast and responsive thanks to the hardware and windows 7 (adobe photoshop is a bit slow though). The overall windows 7 benchmark is around 5, the video card receives the lowest score which is 3.2. But windows glass effect works quite smoothly. The machine can handle 720p and 1080p MKV files with no problems at all. It can even play original BDMV/BDISO smoothly with no worries when GPU acceleration is enabled, which translates that integrated intel GMA4500MHD solution is OK for Blu-ray... The battery can generally last 3 hours under normal condition, I was able to watch 2 hours of 720p mkv videos on power saving mode before it drains the battery. The machine is generally very quite, unless extreme load is added upon, the fans will kick in and could be somewhat annoying. But under normal condition it's very quite. And lastly, I can use the power brick from older Toshiba with this one with no problem.
So to sum up pros and cons:
Good CPU (Core2Duo T6500), decent amount of memory (3GB)
Good performance, runs applications fast, plays video smoothly
Large HDD (320GB, ~260GB usable)
Full size keyboard (absolutely love it)
DVD double layer burner, SD card reader
Case collects fingerprints too easily
NO HDMI output, VGA might not support 1920*1080?
Static noise from audio output if earphone is plugged in
DVD double layer burner do NOT support DVD-ROM booktype set (DVD+R DL->DVD-ROM)
NO wireless hard ON/OFF switch
Volume control adjustment steps too small
I think the best price point for this brand and configuration at the moment is $500, anything below should be quite a bargain. This machine is best suited for running some not so intense business/office application. If you want the multimedia entertainment capability, I would suggest looking for something else due to crappy speakers, static noise in audio output, and no HDMI ports.