Well, three pre-orders, four separate trips to TRU for the past three month, has finally ended today. This deal wasn't as good as the previous toy story 1+2 deal. There was just so many unexpected hassle associated with it, it was never as smooth as I had hoped. But I think I have pulled it off relatively OK this time. So here's the summary for what I got from this four trip deal: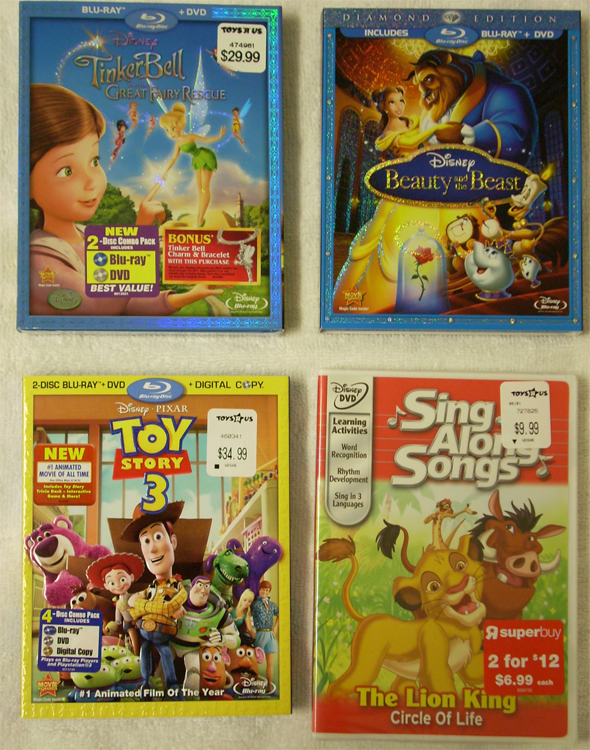 So I pre-ordered Tinker Bell 3 on Sept 17 for $10. (first trip)
I paid $15.96 when picking it up on Sept 21st. (second trip, did get a $10 GC)
I paid $3.94 when picking up BATB on Oct 5th. (third trip)
And today Nov 7th, I paid $63.69 for Toy Story 3 and the Sing Along Songs DVD filler with a bunch of Hasbro board games as seen below. (fourth trip, spent the $10 GC got earlier)
Among these 4 trips, only 2 of them are good deals, the Tinker Bell 3 sucked the most. If it wasn't today TRU had a stackable game deal, the TS3 deal would be even a big sucker since there's no promo whatsoever for this alone unlike all previous Disney Blus...
So here's the story for today:
I was able to combine 3 deals:
1. Get $10 GC after spending $75. (on today's ad there's a coupon, which needs to be scanned)
2. Get $10 GC for purchasing ANY $40 worth of Disney DVD/BD. (In store promo)
3. Get $10 GC for purchasing $35 of Hasbro board games. (In store and online) There's also a rebate for these games.
So since the TS3 BD is @ $34.99 original price, plus a filler Disney DVD, and then bought a bunch of Hasbro games to make the total purchase greater than $75, I was able to get $30 GC.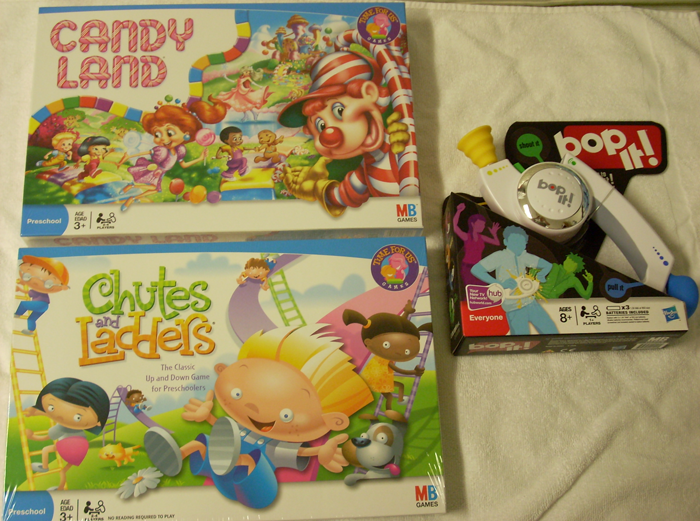 So my total spending is $93.59. And now I have $30 TRU GC. I have $15 Hasbro rebate to do. And assuming the 10% TRU cashback works, I should be able to get about $7 for all these trips. So my final spending would be $42 assuming I could utilize $30 GC efficiently. I think it was an OK deal, considering the thing I really wanted are just BATB and TS3 BDs, the rest I guess I can give away as gifts considering Christmas is coming…