OK, I have to eat my words here. After bought Samurai 7 Blu-ray Box on launch, I pretty much vowed to never purchase a BD from FUNimation again. But here it goes, I just bought Basilisk and Samurai Champloo due to cheap prices. Basilisk is housed in a thin box with two Blu-ray cases, a step down from the three cases from Samurai 7. Despite it being a Veridian release, it doesn't have the stupid Veridian label on the box and case. SONY PCL has released this title in Japan, with it's own upscale, not sure how that looks. This one though has the standard modified English credits on openings and endings which I can never appreciate, especially on these historical titles.
Samurai Champloo, it's a new transfer from the SD master (as indicated on the slip cover) that's released recently. The packaging is a further step down from Basilisk. It's three disc housed in a single BD case with a slip cover. Japan has released the same discs, but with a booklet and sold it for the standard premium price.
For DVDs, I finally got all the Eureka Seven limited edition boxes thanks to the clearance sale from Rightstuf (maybe a permanent price?). The conditions of these LE boxes are pretty good, but do take a grain of salt as they are from bargain bin. And to make free shipping, I bought the Heat Guy J DVD-BOX as a "filler". It came with two boxes which is a surprise. I don't know much about this series, but it's from Director Akane Kazuki, which I liked his works (Escaflowne, Noein, and Tetsuwan Birdy).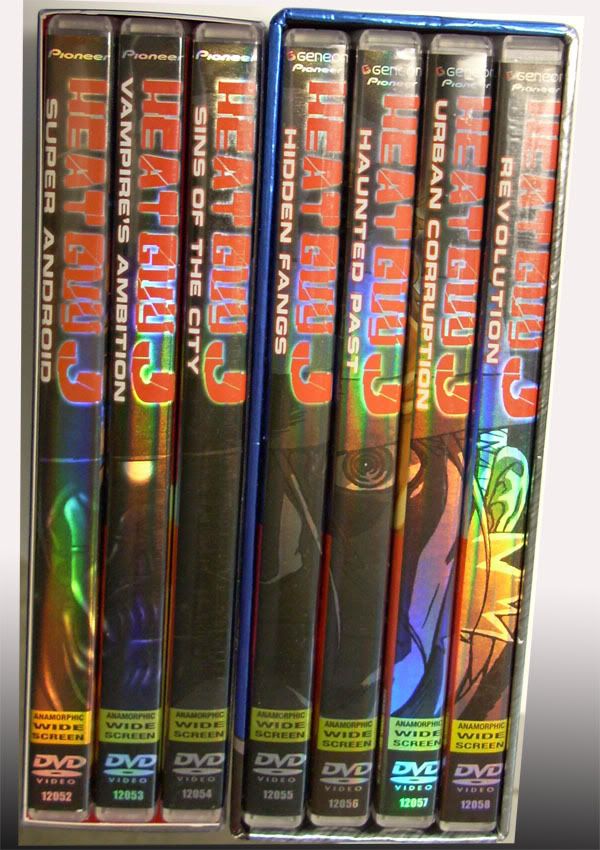 The packaging is pretty nice. It's three volumes housed in a plastic reinforced box, and four volumes housed in a standard heavy chipboard box. When all volumes are in the boxes, you can see the heat guy J's face on the spine. The only problem is that there's no volume number on the spine, the only way to tell the order is by product code at the bottom I guess. And it's 26 episode (25+1 special) on seven discs.
Well, a summary for 2011: I haven't bought a lot of discs this year, most are just unplanned random purchases due to price. Macross Frontier Movie 2 LE box certainly became THE MOST EXPENSIVE purchase I've made for one disc. Other memorable purchase would be Rurouni Kenshin OVA BD, which is one of my favorite OVA. I'm looking forward to 2012, hopefully there will be more worthwhile releases from Japan, particularly looking forward to any Macross BD releases.