So I've mentioned Greasemonkey in last month's entry. This time, I'll just introduce another script for youtube watching and downloading. There are several scripts for the same purpose, I haven't tried all. After my third try, I settled on this one. It seems decent, especially for watching: videos never auto start, automatically plays the highest quality, video can be expanded to fill the entire page (Firefox seems to expand HD quality automatically now??). The only feature I wish is that the video start a bit, then pause, wait for load (auto buffer) since the high quality videos take time to load. The downloading function is working as well, it can download *.mp4 and *.flv format, but the file size for *.mp4 is almost always smaller than what bitcomet downloads (bitcomet only downloads in *.flv format though).
After installing the script, the above buttons will appear on the webpage. Yes, you can even watch videos in mp4 format, but apple quicktime plugin is required.
Bonus:
Nadesico OP HD full screen ver. has very very good quality, not sure where the source is from though (maybe the 2005 remastered premiere collection?? The R1 ADV's 2009 re-release collection is still using the old crappy master with DD 2.0 audio, it's time for me to download the premiere collection to check out the quality…)
Move on to Niconico(ニコニコ動画) video Downloads, all you have to do is downloading and installing a browser called Craving Explorer. The browser is pretty simple, downloading function is also very simple, but it gets the job done. It can also download youtube, but upon my brief try, it will only download low quality…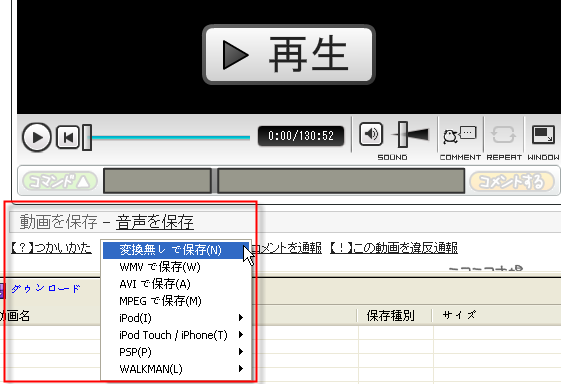 You can download the videos as is or it can transcode the videos to the compatible format you want. Also you can download the videos from the playlist without loading those videos.